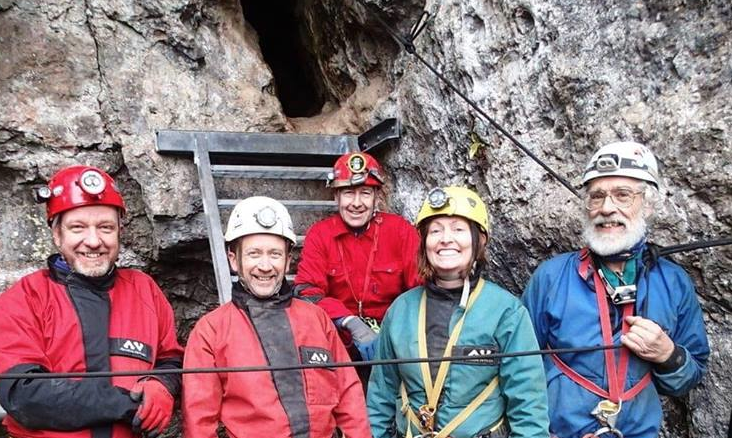 The British Cave Rescue Council descended on Wookey Hole Caves for their first meeting of the New Year – and took the opportunity to check out the Somerset resort's flagship Wild Wookey Experience.  
Miranda Litchfield from the resort team said: "It was an honour to have the BCRC visiting Wookey Hole. Officers from the British Cave Rescue Council utilised our brand new Water Wheel Suite for their first meeting of 2019 and while they were here, we invited them to take a closer look at 'Wild Wookey,' the adventure caving experience set here in the show caves. 
"It was a wonderful weekend, and it was great to receive feedback from the top tier of British Cave Rescue expertise." 
Members of the BCRC team were involved in the Tham Luang rescue in Thailand last summer which resulted in members Jonathan Volanthen, from Bristol, and Richard Stanton from Coventry receiving the George Medal. 
Formed in 1967 the British Cave Rescue Council coordinates the work of volunteer underground rescue organisations across the UK.
A BCRC spokesman said: "A massive thank you to Wookey Hole Caves, who kindly hosted an officers' meeting this weekend – both above and below ground. "Not only did we get to use the new Water Wheel Suite for our meeting, but the highlight was exploring Wookey like never before on the innovative and exciting Wild Wookey caving experience!" 
Miranda Litchfield said the inland resort had a fantastic year with significant rise in the number of cavers visiting the Wild Wookey adventure caving experience. 
She said: "2018 saw 42 per cent more participants compared with that of the previous year. Caving instructors at Wookey Hole worked exceptionally hard throughout 2018 to bring two new additions to an already challenging and exciting underground adventure course
"Wild Wookey lasts for three hours and includes a surreal aquatic journey in the famous Wookey Hole Boat ending with a dramatic flying zip Line exit from the show caves. 
"We believe this has played a key role in the increasing number of cavers to Wookey, however we feel there has generally been a wider interest in caving as a sport, since the successful rescue in Thailand last year." 
Miranda Litchfield concluded: "The bronze award for Tourism New Business Award at the Somerset Tourism Awards was a brilliant end to an incredible year. We have met some amazing adventurers, explorers, cavers and divers in 2018 and we look forward to welcoming more to Wookey Hole Caves in 2019." 
For more information or to book please visit www.wookey.co.uk.