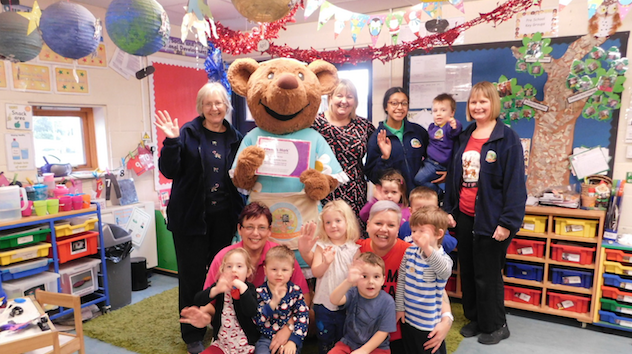 Staff at Mama Bear's Wellington Road nursery in Taunton can claim to be setting a new high standard for safety in childcare, with the announcement that they have jointly earned the child-care sector's gold standard in paediatric first aid, Millie's Mark accreditation.  
This special endorsement is only awarded to childcare providers who go above and beyond the minimum requirements by having 100 per cent of staff trained in paediatric first aid and ensuring their learning is regularly reinforced.  
The announcement follows hot on the heels of Mama Bear's first accreditation which was awarded to their Bailey's Court nursery in Bradley Stoke, Bristol in December. 
Millie's Mark is named after Millie Thompson, who died after choking on food at nursery in 2012 when she was just nine months old. Her parents, Dan and Joanne Thompson, are behind the successful campaign for changes to first aid requirements for childcare providers. 
The scheme – delivered by National Day Nurseries Association and supported by the Department for Education – aims to keep children safe and minimise risk and accidents by increasing numbers of paediatric first aid-trained practitioners and raising their confidence and competencies in applying paediatric first aid – no matter what the situation. 
Mama Bear's nursery manager, Kerry Sturmey, said: "Obviously parents expect their children to be entirely safe in our care – and that has always been true – but for me the special importance of this award is that all our staff now have greater confidence in their own ability to confidently administer first aid when required. 
"Every member of my team was first aid-trained when they joined us, but a big part of being Millie's Mark-accredited is that there will be continual assessment to keep our accreditation current, so we will constantly be reflecting on our practice and how we can best support the health of the babies, toddlers and pre-schoolers in our care. 
"My staff recognise how important this is and are delighted about the ongoing element of the scheme. It means our first aid knowledge and skills will always be fresh and increases our ability to respond quickly and effectively in emergencies, and deal competently with any potential health issues in babies and young children. 
It took Kerry's team six months to complete the training, which included visits from first aid training provider, Akesis Medical Services, internal mentoring and on-the-spot training scenarios. 
The accreditation process for Millie's Mark is very comprehensive, requiring settings to have 100 per cent of staff working directly with children to be qualified in paediatric first aid. Retaining the accreditation requires them to be able to demonstrate at any time that their learning is kept alive and skills regularly refreshed. 
Kerry Sturmey said: "Everybody wins. Parents have an additional level of reassurance that their child is safe in our care, and every member of my team is confident, ready and capable should an emergency occur." 
Mama Bear's Day Nursery is run by husband and wife team Bev and Tony Driffield and has gained a reputation in the South West for offering the highest quality, affordable care for children from three months to five years. Open from 7.30am until 7pm all their nurseries offer a range of childcare funding options including the government Extended Entitlement scheme. 
Established in 2002 the group now includes 24 nursery settings in Bristol, Somerset and Devon which are consistently rated by Ofsted as Good or Outstanding. 
Mama Bear's Taunton day nursery and pre-school – rated by Ofsted as Outstanding- is located on the Wellington Road. The nursery enjoys strong links with Bridgwater and Taunton College with all-year round places available to families from the wider community as well as term-time only places to meet requirements of parents who are students at the College. 
For more information on Mama Bear's Day Nurseries visit www.mamabear.co.uk or call Kerry Sturmey on 01823 276261.