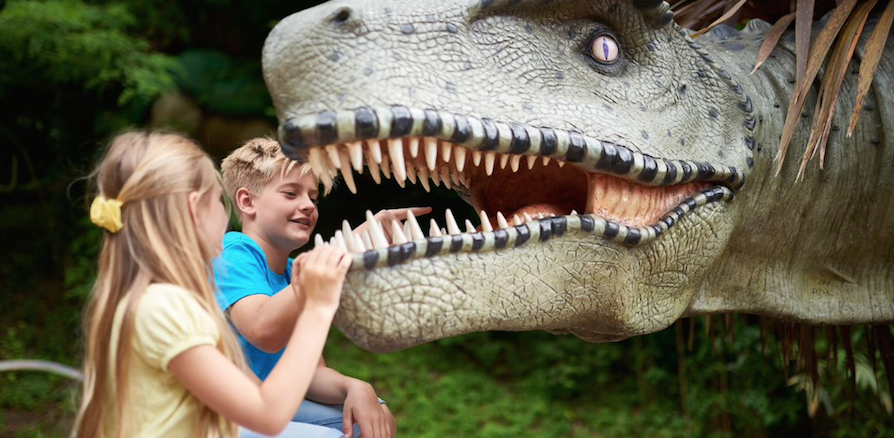 Exploding into 2019 – Wookey Hole Caves are better than ever! 
With the first half term break of the year just around the corner the top Somerset tourist attraction is gearing up to welcome families to an experience like no other. 
Featuring more than 20 indoor and outdoor attractions at one scenic site set amongst the Mendip Hills, Wookey Hole Caves remains a favourite with families looking for a value for money day out over the holidays. 
Running from 16 – 24 February, half term at Wookey Hole includes daily performances of Gerry Cottle's high energy 'Greatest Show' spectacular. 
The new Animatronic Dinosaur Valley features moving, blinking, hissing and roaring dinosaurs and young explorers can go on a Dino Dig – unearthing ancient bones, discovering where they come from and who they belong to! 
There is an Indoor Wizard's Play Castle for the younger visitors as well as daily demonstrations of the ancient art of papermaking. 
The awe-inspiring 4D cinema is showing a new movie for 2019 – Ice Age: Dawn of the Dinosaurs 4D experience – which will take audiences on an unforgettable adventure – not forgetting the main ticket attraction of the historic caves, caverns and tunnels. 
As ever, tickets include entry into all attractions including the Valley of the Dinosaurs, Museums, Paper Mill, Play Areas, Penny Arcade, Adventure Golf, Mirror Maze and much more. 
And with 15 per cent off online bookings the offering has never been more attractive. 
The Witch of Wookey Hole Caves, said: "Wookey Hole is perfect for the February Half Term break as we have plenty to see, do and explore both indoors and outdoors. We can guarantee a good time whatever the weather.  
"The great thing about Wookey is that everywhere you turn there is something new to learn and enjoy and we cater for children of all ages as well as big kids too! 
"The value for money here is second to none, families are even opting to stay two or three days so they can really explore everything we have to offer as well as enjoying the beautiful surroundings of Somerset." 
Those who wish to extend their stay can book a room at the Wookey Hole hotel from just £99 per family and will get their attraction tickets and breakfast free. The Half Term package includes one night's accommodation based on two adults and two children, entrance to Wookey Hole Caves, a round of Crazy Golf, a Continental Breakfast, free fun packs for kids and savings on other local attractions.  
Also available for an additional charge, the award winning Wild Wookey caving experience offers a unique perspective on the famous caves. 
Tickets for February half term at  Wookey  can be booked online with 15 per cent off. Visit www.wookey.co.uk for more information.