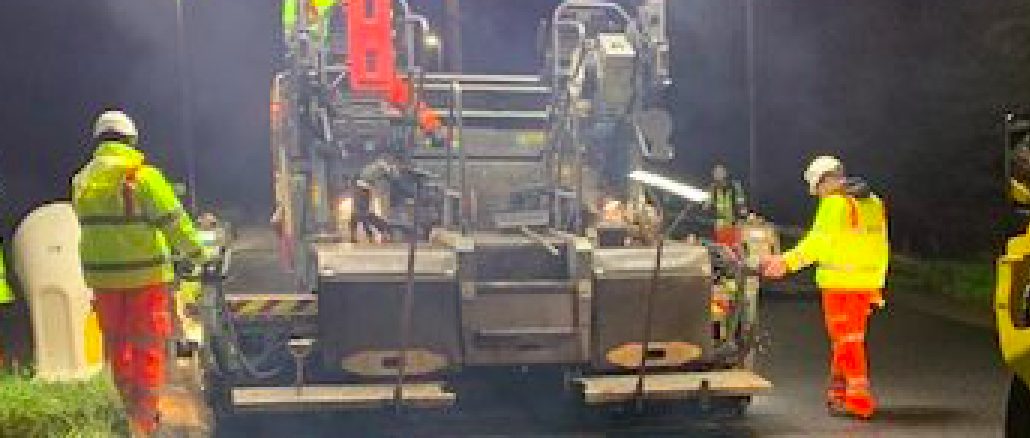 The A358 at Sampford Brett will be closed 24/7 in both directions from today (Monday) for vital drainage and resurfacing work, affecting traffic and buses between Taunton and Williton.
The closure comes after a section of the main A358 near Sampford Brett was damaged during a prolonged period of wet and cold weather back in March 2018.
At the time temporary lights were put in place for emergency repair work and so investigations into the cause of the problem could take place.
This showed substantial damage to the drainage system running under the road.
Extensive repairs include full upgrade of the drainage system with larger pipes being installed to increase capacity and new grates to stop debris entering the system.
The road will also be strengthened and fully resurfaced to provide lasting benefits and reduce the need for future works.
The work cannot take place without a full road closure after all possible options for carrying out this work were assessed.
This is expected to take two weeks starting on Monday 18 March 2019.
Essential works to resurface the A358 Hankridge Roundabout in Taunton will be taking place overnight (22:00 to 07:00) from today (Monday) with road closures and restricted access.
Essential works to resurface the A358 Hankridge Roundabout and Admiralty Way / Creechbarrow Way were announced earlier this year as part of a major package of investment in Somerset's roads.
Works at the Hankridge Roundabout require phased road closures and are being planned to take place overnight to minimise disruption as much as possible.
The Toneway outbound will be closed on Monday 18 March and Tuesday 19 March between 22:00 and 07:00. There will be no access to the Hankridge business park during these times except for businesses by prior agreement.
On Wednesday 20 March and Thursday 21 March, the inbound Toneway will be closed with the outbound carriageway reopening and access to the business park restored.
Councillor John Woodman, Somerset County Council's cabinet member for highways, said:
"The road surface at this location is currently in a poor condition and there will be limited opportunities for repairs once construction of the Junction 25 scheme begins later this month.
Closing a road is always the last resort, but at this location it is the only way to carry out this work safely. We're working closely with businesses to meet their needs as much as possible, but clearly there will be some short-term disruption."