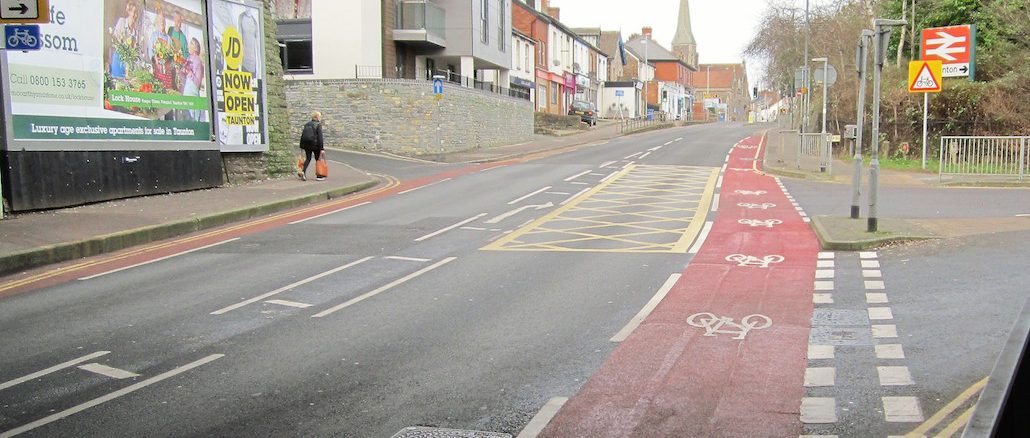 Somerset County Council has completed work to help improve cyclist safety on Station Road in Taunton.
They include a wider cycle lane, box junction markings and warning signs to help drivers be aware of cyclists.
They have been carried out after the council's road safety team identified a cluster of injury collisions involving cyclists at the ticket office junction of Taunton Station.
In the last five years a total of 13 cyclists were injured along the stretch of road.
The majority of injuries were caused by vehicles turning in front of cyclists and by passengers getting out of vehicles and stepping into the path of cyclists.
A spokesperson for Somerset County Council said:
"We are pleased that these works have been completed – projects like this are part of the council's ongoing commitment to making every journey within the county a safe one.
But that cannot be achieved by engineering alone we also need all road users to do their part by looking out for one another and remembering to share the road."
The scheme was developed following extensive consultation and the work was carried out at night to reduce disruption to traffic. The council will monitor the area to ensure that the new road safety measures are reducing collisions.
The Road Safety Team have also been working with the Taunton Area Cycle Campaign (TACC), and Avon and Somerset Police to promote cycle safety in the town.
Mike Ginger from TACC said:
"Station Road is one of the 15 'hot spots' identified in a survey carried out by TACC in 2016 survey and it is pleasing to see some work being carried out.
We will continue to work with the county council to seek further improvements along the road, including raising the concerns we are aware of with close overtaking of cyclists by motor vehicles.
We hope that our work with the road safety team and the police will help to get the 'safe pass' message out to fellow road users, to help us all share the road safely."
The road safety team have put together some simple tips to help keep cyclists safe on the road:
Look out for cyclists, especially when turning – make eye contact if possible so they know you've seen them
Use indicators – signal intentions so that cyclists have time to react
Give cyclists plenty of space when over taking, leaving as much room as you would give a car. If there isn't sufficient space to pass, hold back
Always check for cyclists when opening a car door
Stop at the first white line at traffic line and give cyclists time and space to set off safely