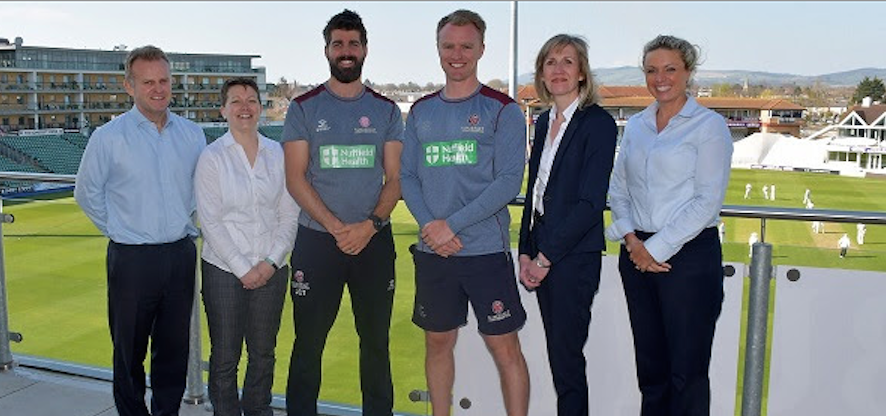 Somerset County Cricket Club are pleased to announce that they will once again be working in partnership with Nuffield Health in 2019.
Nuffield Health is one of the leading not-for-profit UK healthcare organisations with a network of hospitals, medical clinics, fitness & wellbeing clubs and diagnostic units across the UK. They also support businesses in looking after their employees by operating their fitness and wellbeing facilities services. In addition to this they also offer access to the largest network of physiotherapists outside of the NHS, and their activities are focused on improving health and wellbeing across the spectrum from prevention through to cure.
As part of the agreement Nuffield Health, who have a hospital in Staplegrove and a gym situated in the centre of Taunton, will continue to operate as an Official Club Partner and Supplier. They will also continue to be Somerset CCC's Training Wear Partner.
In addition to their logo featuring prominently on the SCCC training kit, Somerset players will continue to be granted access to the Nuffield Health gym to help with their training programmes whilst the hospital will continue to work closely with Somerset CCC Head of Science & Medicine, Jamie Thorpe when it comes to the rehabilitation of injured players.
After announcing the Partnership renewal, SCCC Commercial Sales Director, Suzanne Roper said: "Health and wellbeing are at the core of what Nuffield Health do, and as a professional sports club those elements are vital to us as well.
"I'm delighted that this partnership will be continuing and I know for a fact that the players and coaching staff are extremely grateful to Nuffield Health for allowing them to use their excellent facilities to help deliver strength and conditioning programmes."
Paul Taylor, Hospital Director at Nuffield Health Taunton Hospital said "We are delighted, for the 4th consecutive year, to continue to be a key healthcare and wellbeing provider to Somerset County Cricket Club, supporting the players at both our Nuffield Health Fitness and Wellbeing Gym as well as providing rehabilitating support from our hospital in Staplegrove. We wish the team and club well for the upcoming season."