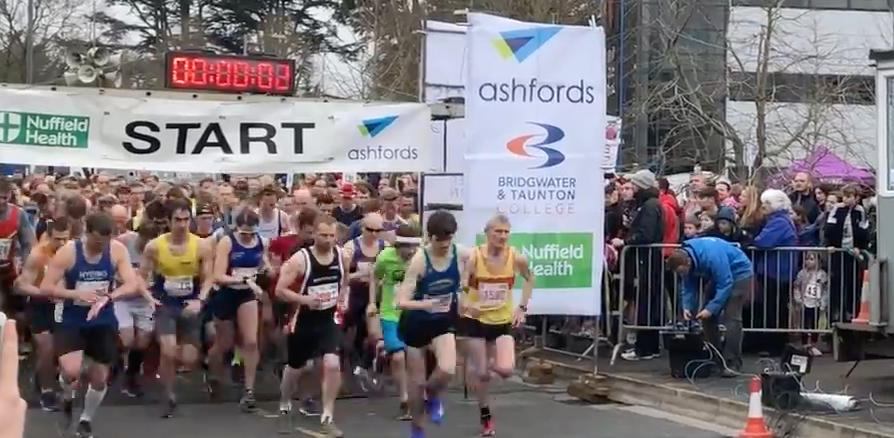 The 36th annual Taunton Marathon takes place this Sunday (7th April). More than 1000 runners are expected to take part in the Full Marathon of 26 miles or the Half Marathon of 13 miles. Taunton is one of few marathons in the South West to offer both routes and holds a gold grade from the British Association of Road Races.
The race kicks off at 10.30am on Sunday morning from Bridgwater and Taunton College, in Taunton. In accordance with UK Athletics Rules the wearing of headphones by runners is not permitted. Runners can download the race rules and maps here.
The Route: Wellington Road, Castle Street, Tangier Way, Wood Street, Bridge Street, Staplegrove Road, B3227 through Norton Fitzwarren to Hillcommon Crossroads, turn left into Oake, carry on through to Bradford-on-Tone (9m). Turn left at The White Hart and left again on to Hele Road. Along Hele Road through Hele and Upcott into Bishops Hull via Shutewater Hill. Turn left into Bishops Hull Road and through the village. Turn left into Netherclay Lane and follow through to Silk Mills Road. Turn right along Silk Mills Road and left into Heron Drive. Enter College Grounds from Heron Drive and run past Finish at the front of the College to start second lap.
Road Closures: A small amount of road closures will be in place to allow the runners to safely pass through the town. Traffic will be stopped in Wellington Road in both directions for about 15 minutes from 10.25am to allow the runners to leave the off-road start line at Bridgwater & Taunton College at 10.30am prompt. As the runners pass along Tangier Way and Bridge Street vehicles will be held at the various junctions to let them through. Once out towards Staplegrove runners will begin to spread out and traffic will be able to pass with care. Silk Mills Road will be closed to through traffic from 10.30am to 3pm in both directions between Heron Drive and Bindon Road to allow the runners to come safely out of Netherclay Lane and to get across Silk Mills Road. The road is open at the Bishops Hull end for two way traffic to Heron Drive, with access to St Margaret's Hospice and Abbeyfield. Diverted traffic will travel through the town centre or Tangier Way. The bridge at Bradford-on-Tone is a pinchpoint, with traffic being seriously affected as runners tackle the single lane structure. This year the bridge will be closed between 11am and 1pm to all traffic. The diversion is via Nynehead. Drivers in Bishops Hull should follow a voluntary one-way system that flows with the runners, down Bishops Hull Hill and Netherclay Lane, but up Waterfield Drive.
Many people may not be aware that the Taunton Half and Full Marathons are organised by the Taunton Carnival Committee and the money raised goes towards funding the illuminated carnival procession in October as well as to local charities.