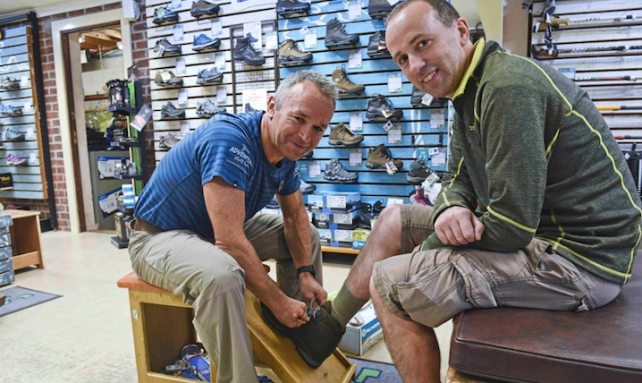 KEEN and amateur walkers from Somerset are being invited to take advantage of a free footwear fitting service being offered as part of a national Healthy Feet Month (April 2019).
Taunton Leisure, which is on East Reach in Taunton, is supporting the April event, which is run by the College of Podiatry, by offering complimentary boot fittings daily during normal opening hours.
Store Manager, Bill Atkinson, who is an experienced hiker, explained: "Healthy Feet Month highlights the importance of correctly fitted shoes for all activities and hobbies, so we can all put our best foot forward when we're out and about doing the things we love."
A footwear study in the Journal of Foot and Ankle Research last year revealed more than 60% of participants wore shoes that did not accommodate their feet by width or length.
There was further evidence to suggest that incorrect footwear fitting was associated with foot pain and disorders such as toe deformity, corns and calluses. The research went on to recommend that a greater emphasis should be placed on footwear fitting education.
Bill added: "Anyone looking for free expert advice on the right walking boots or shoes for them, should pop in to meet our in-store experts who know the best brands for wide, narrow and average feet, and will ensure they find the perfect fit.
"We offer a good selection of shoes for those wishing to take up outdoor pursuits and for more experienced walkers, hikers and climbers too. Our range of footwear can accommodate the variations in foot morphology people have, particularly in relation to foot width.
"For example, for people with wider feet, we stock Meindl comfort fit boots that have more space at the front, a firm grip on the heel, a wider base and a more defined contour that enables easier rollover when walking. We also stock Altberg boots and these boots come in different width fittings.
"To add to our large range of shoes and boots we can also offer a fully trained fitting service for Superfeet premium insoles. Superfeet insoles move with your feet, providing support in all the right places at the right times. They help to stabilise your feet when wearing shoes as well as offering comfort and support at the same time.
"The key to Superfeet's unique design is the patented heel cup, stabiliser cap and firm foam that provide the shape, which supports the foot and arch."
Taunton Leisure, which is a family-run business, has been helping its customers get the right clothing, footwear and outdoor leisure equipment for more than 40 years.
Bill continued: "We're known for our free professional footwear fitting service, which goes above and beyond what any other retailer offers. We have exceptional knowledge and expertise as all the team are keen walkers, hikers and climbers, so know how important this is to have suitable footwear when they are out and about.
"It's vital, if you're an active, outdoors enthusiast, that you have the correct, properly fitted, footwear, so you're comfortable. We can help you find the perfect pair of walking boots that fit well and are so comfy they feel like slippers."
Customers travel specifically to visit the store as it is well-known and respected for its specialist expertise and skills, including its boot fitting and rucksack fitting services.
From walking boots to climbing shoes or tents to outdoor cookware, Taunton Leisure supplies more than 3,500 products online or in-store and has friendly knowledgeable staff on hand to offer expert advice too.
Taunton Leisure, which has stores in Bristol and Exeter as well, stocks well-known brands such as Altberg, Rab, The North Face, Vango, Outwell, Osprey, Mountain Equipment and Meindl to name a few.
It also provides niche products and is the only retailer in the UK to sell Snow Peak Titanium Cookware.
The free footwear fitting takes place at Taunton Leisure, which is on East Reach, during normal opening hours.
For more information, please visit Taunton Leisure on East Reach in Taunton or www.tauntonleisure.com. Alternatively, please call 01823 332987 or connect via https://www.facebook.com/TauntonLeisure/ or https://twitter.com/tauntonleisure.