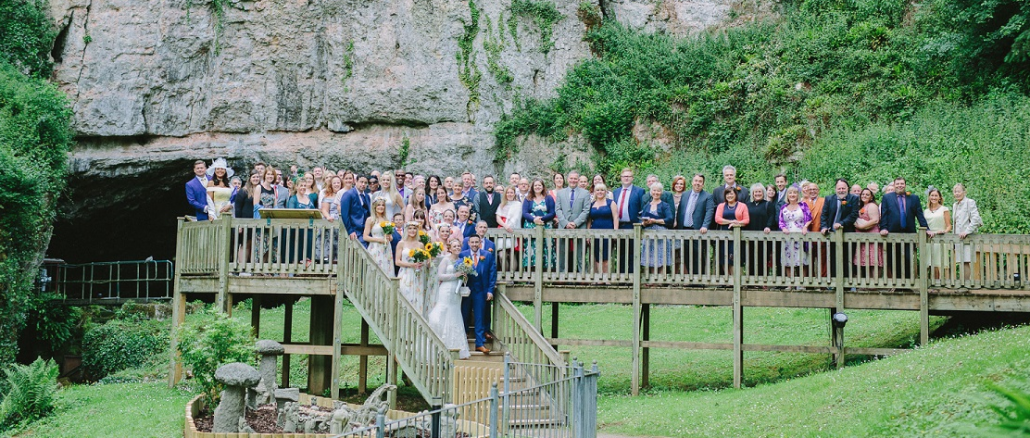 One of the South West's most unique wedding venues has just got even more interesting with the launch of its new ceremony and reception suite which has been created within an historic paper mill.
The Waterwheel Suite at Somerset's stunning Wookey Hole Caves not only provides an exclusive setting for nuptials and after-parties, it also features the incredible backdrop of the original water wheel which powered the paper mill for centuries.
Part of a £5 million investment programme at the popular resort, the transformation of the elegant Waterwheel Suite and the restoration of the original water wheel will be popular with couples looking for a quirky location and added wow-factor for their big day.
The Waterwheel Suite is available for both ceremonies and receptions but for those looking for a more adventurous start to married life, there are three fully-licensed cave chambers available for unique and magical civil ceremonies.
Wookey Hole provides one of the few underground wedding venues in the world. Couples can get married by candlelight surrounded by natural beauty deep underground and then explore the weird and wonderful world of Wookey Hole with their guests afterwards.
Photographs can be taken in the Dinosaur Valley or with the infamous Witch of Wookey and time between the ceremony and reception can be filled by enjoying the Victorian Penny Arcade, the Mirror Maze or the Adventure Golf, all on-site.
Wookey Hole Caves Director Daniel Medley, said: "We're up for pretty much anything here and if we can create a really different, special wedding day which people will remember for years then we will!
"We also specialise in supplying live entertainment including world-class circus acts with fire breathers, jugglers, stilt walkers, aerial artists and table magicians to add a touch of extravagance to your day."
The new suite can hold up to 200 people at a time and comes at a reasonable price with wedding packages at Wookey starting from just £99.
Offering a versatile, contemporary space which retains the building's heritage and history, the Waterwheel Suite features carved panels of exposed rustic brickwork which contrasts with the elegant interior.
Several windows in the room provide a perfect view of the impressive water wheel and a private courtyard adjoining the room makes for an exquisite setting for drinks receptions and canapes.
Daniel said: "The Waterwheel Suite is part of the old paper mill which once made high grade paper for banknotes, including the Confederacy. It is a beautiful space and the backdrop of the water wheel along with the stunning natural beauty of the caves and the Mendip Hills will make for some outstanding wedding photos and a really distinctive setting for a special day.
"It is so interesting that the mill has now turned full circle – from producing the quality paper used for bank notes and legal documents to hosting wedding ceremonies and witnessing marriage certificates.
"We also have plenty of accommodation options on site including our convenient hotel rooms and our Mendip View suites which are just a short stroll away. With stunning views each lodge is self-catering and includes a private hot tub to relax in."
Wookey Hole Mill is the earliest known paper mill in Somerset with papermaking there dating back to 1610. At its height it was the largest rag-made paper mill in Europe, producing 35,000 sheets every week and it was still producing paper in 2010.
To arrange a viewing contact Wookey's wedding coordinator by calling the main office on 01749 672243 or email weddings@wookey.co.uk