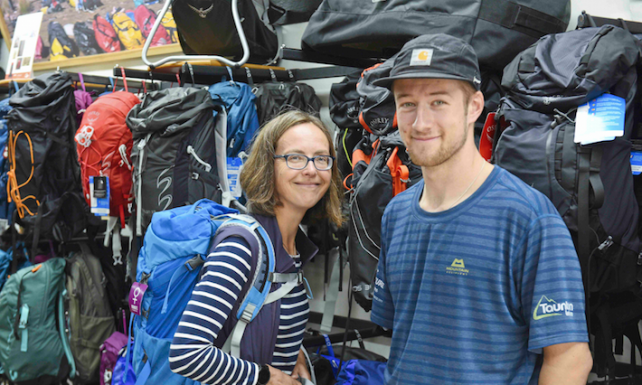 A FAMILY-RUN Somerset clothing, footwear and outdoor leisure equipment retailer is this month hoping to encourage more people to get out walking in the county as part of National Walking Month (May 2019).
Taunton Leisure, which is on East Reach in Taunton, is offering free advice on footwear, rucksacks and other walking essentials as well as tips for some of the best walks in the area.
Store Manager, Bill Atkinson, who is an experienced hiker, said: "As part of National Walking Month, which takes place throughout May, we're offering our complimentary expert advice on all the items a beginner or a more experienced walker or hiker might need and how to get started. We're also offering our free rucksack fitting service and walking boot-fitting service too.
"It's really important to have the right equipment for your walk or hike and to be comfortable, secure, warm and dry, whatever the weather. It's so essential to encourage people to get outdoors, as it's so good for everyone's health and well-being on many levels.
"According to the British Heart Foundation, more than one in seven men and one in 10 women die from coronary heart disease in the UK, however those who are more physically active are at a lower risk, which is why we actively want to encourage more people to give walking and hiking a try, and to come in for free advice from us on everything from equipment to clothing and maps and walking routes.
"Walking can also help keep the heart strong by increasing its rate. It can improve a person's mood and general well-being just being out of the house enjoying some fresh air and being in green open spaces, in touch with nature. We'll also be taking part in the official National Walking Month hashtag #WalkThisMay on social media and encouraging people to get active throughout the month with our handy hints, tips and free advice."
Taunton Leisure, which is a family-run business, has been helping its customers get the right clothing, footwear and outdoor leisure equipment for more than 40 years.
"Our team here are all experienced walkers and hikers and we appreciate how important Somerset's open, green spaces are to us. We have three wonderful AONBs here in Somerset and they are the Blackdown Hills, Mendip Hills and Quantock Hills, and we also have Exmoor National Park too. Plus there are many semi-urban footpaths such as those along canals and rivers through towns and into the countryside, which are great for exploring too, and there are amazing wildlife reserves on the estuaries and Levels."
Taunton Leisure, which has stores in Bristol and Exeter as well, stocks well-known brands such as Altberg, Rab, The North Face, Vango, Outwell, Osprey, Mountain Equipment and Meindl to name a few.
Customers travel specifically to visit the store as it is well-known and respected for its specialist expertise and skills, including its boot fitting and rucksack fitting services.
From walking boots to climbing shoes or tents to outdoor cookware, Taunton Leisure supplies more than 3,500 products online or in-store and has friendly knowledgeable staff on hand to offer expert advice too.
It also provides niche products and is the only retailer in the UK to sell Snow Peak Titanium Cookware.
For more information, please visit Taunton Leisure on East Reach in Taunton or www.tauntonleisure.com. Alternatively, please call 01823 332987 or connect via https://www.facebook.com/TauntonLeisure/ or https://twitter.com/tauntonleisure.