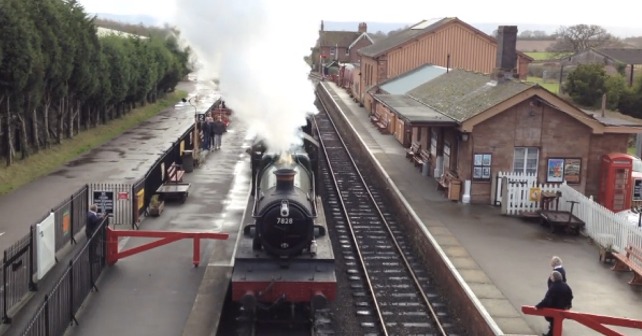 The West Somerset Railway (WSR) has been undergoing a complicated track relay around Blue Anchor throughout the start of 2019 as part of a major infrastructure improvement programme on the line.
This work proved to be more involved than first thought and resulted in the railway only being able to operate a train service from Bishops Lydeard to Watchet initially for its first few weeks of this season's services, and with a bus connection to Minehead.
But this truncated train service proved to be extremely successful and saw visitor numbers to the historic Harbour Town of Watchet rise dramatically for the time of year.
The Blue Anchor works was largely completed in order to allow services run through to Minehead again on 19th April in time for Easter, however, a small amount of further work is still needed to complete the project.
As a result, it's necessary for the Blue Anchor stretch of the line to close again but for only for a short, three-day period between Tuesday 7th and Thursday 9th May inclusive.
Whilst this part of the line will be closed, the railway will again operate its successful train services between Bishops Lydeard and Watchet, but with an onward bus connection to Minehead kindly provided by Buses of Somerset on their public service bus number 28. West Somerset Railway Minehead return and rover tickets will be valid on this bus service, and thanks go to Buses of Somerset again for their support.
This vital work will mean that the line can open again properly, allowing the use of the two WSR running lines through Blue Anchor Station, and this will then enable the railway to implement its publicised timetables and with all of the appropriate crossing points once more in use.
WSR General Manager Paul Conibeare said:
"Our staff have been working extremely hard over our early season closed period. These last few days of altered running are vital to ensure that the railway operates to its full potential, and we are looking forward to the completion of this project next week.
"The support that the railway has received from far and wide through this time has been overwhelming, and we are looking forward to offering our visitors and passengers reliable and enjoyable train services in 2019 and the years to come."
The timetable for the Bishops Lydeard to Watchet services between Tuesday 7th and Thursday 9th May can be found on the West Somerset Railway's website at: www.west-somerset-railway.co.uk