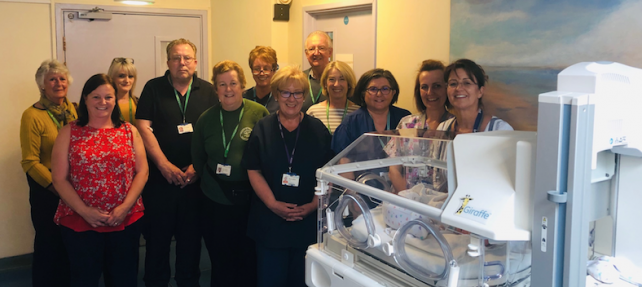 Babies admitted to the Somerset Neonatal Intensive Care Unit (SNICU) at Musgrove Park Hospital will now benefit from state-of-the-art care, following the donation of a brand new Giraffe Incubator Carestation.
The team on SNICU were over the moon to receive the new incubator, which combines innovative technology with a family-centric approach, creating a natural, peaceful environment for recovery, while still allowing for parents to bond with their baby.
The incubator was donated using funds raised by Mandy O'Neill and her family, following her baby granddaughter, Charlotte's, stay in SNICU. The amount raised by the family was topped up by profits from the League of Friends shop, after the shop volunteers agreed unanimously to support such a worthwhile cause. Queen's College Junior School will also be fundraising towards the total cost of £17,000 by donating the money raised by Years 4 and 5 in this year's Rotary Challenge.
Charlotte was cared for by the SNICU team for two weeks, and Mandy saw first-hand how much better it was for the staff, the babies and their families when using one of the two Giraffe incubators on the unit. Realising the need for further incubators, she set up the fundraising campaign to provide a third.
"My granddaughter wouldn't be here today without the expertise of the SNICU team, aided by the advanced technology offered by the Giraffe incubator," explained Mandy. "The level of care that my son, his partner, and my granddaughter all received during their stay was brilliant, and we wanted to give something back to all the staff that helped to care for them."
Rebecca Mann, Consultant Paediatrician on SNICU, added: "While we are lucky to have the most recent technologies on our unit, enabling us to give the very best care for every baby that comes to us, there are often situations where a baby needs that extra level of care at the beginning of their stay.
"The Giraffe incubators allow us to provide that, creating a nicer environment for the babies, as well as increased infection control and improved access to make it easier to treat our littlest patients. These incubators are an incredible asset to have, and we are very grateful to Mandy and her family, our League of Friends shop volunteers, and the children from Queen's College Junior School for their donation."
SNICU is a dedicated ward within the maternity building at Musgrove Park Hospital, caring for sick and premature newborn babies in Somerset. Each month the maternity unit at Musgrove Park delivers over 200 babies – some of which require extra care and treatment from SNICU. The team of specialist nurses can care for up to 18 babies and their families at any one time, helping to give round the clock care.