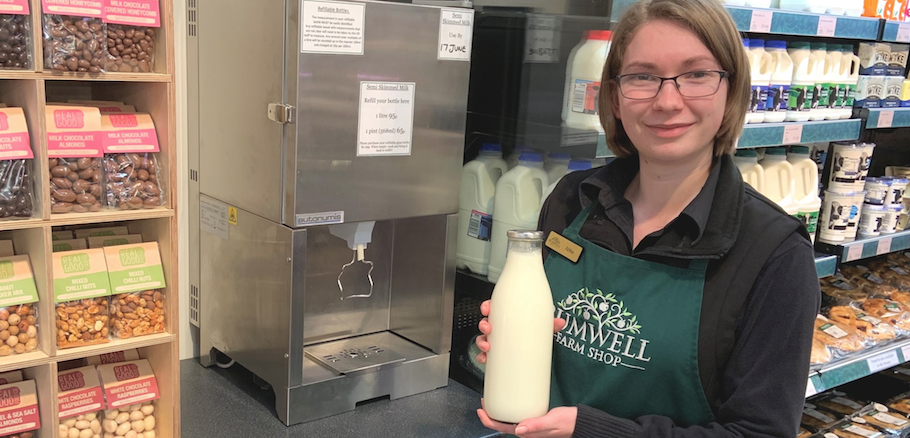 SOMERSET folk keen to reduce their use of single use plastic can this month (June, 2019) use a Milk Refill Station at the farm shop in the county.
Rumwell Farm Shop, which is located on the A38 between Taunton and Wellington, launched the new venture with semi-skimmed milk sourced from Gundenham Dairy in Langford Budville 6.3 miles away.
Anne Mitchell, Joint Owner of the farm shop, said: "Our new milk vending machine enables customers to refill glass bottles with fresh milk as opposed to buying plastic cartons. As a company we are keen to reduce our single use plastic waste and to encourage our customers to do the same by giving them the opportunity to do so.
"Customers can buy a new one litre reusable glass bottle and fill it with pasteurised semi-skimmed milk. The glass bottle is 99p and the milk is 95p per litre and 65p per pint.
"People can also bring back used plastic milk bottles to refill or another container of their choice. The milk must be sold in multiples of one pint (568ml) or one litre only. Any reused bottles must state the size so we can easily identify the amount in the bottle. All containers must be clean before refilling.
"If the Milk Refill Station is successful, we may also introduce whole milk as well."
Gundenham Dairy is a family-run independent dairy producer. It has been supplying milk since the 1930's. The third and fourth generation of Cottrell family is now farming Gundenham.
The majority of its 500 acres of Somerset pastureland is given over to providing food and grazing for its herd of around 350 Holstein Friesians. The cows on the dairy are all free roaming and grass fed.
Rumwell Farm Shop is an independent, family-run, award-winning business owned by the Mitchell family. It was originally a potato store, when David and Anne Mitchell began selling their potatoes and free-range eggs at the gate.
Due to customer demand, the range of products soon increased, and the farm shop grew into the place it is today. David and Anne's sons, James and Jack, are now also involved in the business as well as daughter-in-law Sophie.
Rumwell Farm Shop has a traditional butchery counter selling free range pork and Aberdeen Angus beef reared just four miles away on the family farm. There is also a delicatessen, bakery, jam kitchen, food hall, wine cellar and gift room.
Home grown potatoes are also still available, when in season, as well as everything from fruit, vegetables and groceries to flowers, gifts and cards.
The Rumwell Cafe can seat approximately 80 people. The food prepared in the cafe kitchen is sourced from the farm shop, the Mitchell family farm and regional suppliers.
Families are welcome to the cafe and there is a menu especially for children. The cafe also serves afternoon teas, carvery on a Sunday and is licensed to sell alcohol.
For more information, please call Rumwell Farm Shop, which is located in Rumwell between Taunton and Wellington, on 01823 461599, visit www.rumwellfarmshop.com, follow the company on Twitter at www.twitter.com/rumwellfarmshop or log on towww.facebook.com/Rumwellfarmshop.