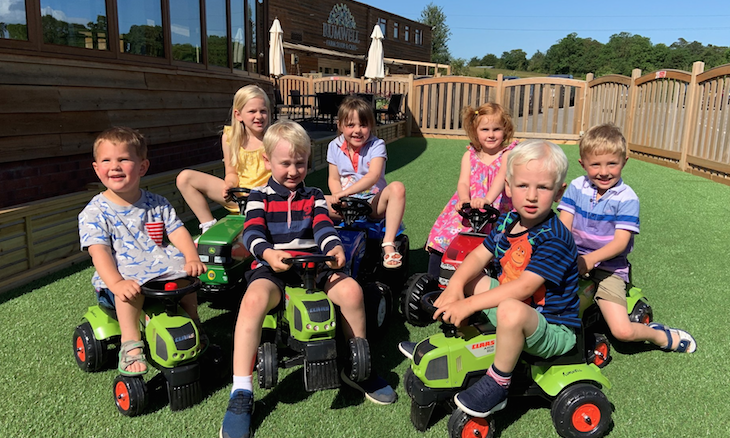 TRACTOR loving children from Somerset are invited to a farm shop in the county to play in its new area dedicated to the farming vehicle (July, 2019).
Rumwell Farm Shop has created a new outside, astro turf zone complete with tractor garage for youngsters up to eight-years-old to play in.
Anne Mitchell, Joint Owner of the farm shop, which is located on the A38 between Taunton and Wellington, said: "We're a family-friendly farm shop and we're keen to create a place where adults can relax and also somewhere children will be happy too.
"We currently have an outside children's play area, which includes a Wendy house, climbing frame, slide and rockers. We wanted to add another dimension and the tractor play area seemed fitting. We know how popular these vehicles are with youngsters.
"Children can let off some steam with our push-along and ride-on tractors. The push along tractors are perfect for toddlers, while the three, bigger, pedal powered tractors are great for older children. We do ask that all children are supervised at all times while using the tractor play-area."
Rumwell Farm Shop is an independent, family-run, award-winning business owned by the Mitchell family. It was originally a potato store, when David and Anne Mitchell began selling their potatoes and free-range eggs at the gate.
Due to customer demand, the range of products soon increased, and the farm shop grew into the place it is today. David and Anne's sons, James and Jack, are now also involved in the business as well as daughter-in-law Sophie.
Rumwell Farm Shop has a traditional butchery counter selling free range pork and Aberdeen Angus beef reared just four miles away on the family farm. There is also a delicatessen, bakery, jam kitchen, food hall, wine cellar and gift room.
Home grown potatoes are also still available, when in season, as well as everything from fruit, vegetables and groceries to plants, flowers, gifts and cards.
The Rumwell Cafe can seat approximately 80 people. The food prepared in the cafe kitchen is sourced from the farm shop, the Mitchell family farm and regional suppliers.
Families are welcome to the cafe and there is a menu especially for children. The cafe also serves afternoon teas, carvery on a Sunday and is licensed to sell alcohol.
For more information, please call Rumwell Farm Shop, which is located in Rumwell between Taunton and Wellington, on 01823 461599, visit www.rumwellfarmshop.com, follow the company on Twitter at www.twitter.com/rumwellfarmshop or log on towww.facebook.com/Rumwellfarmshop.