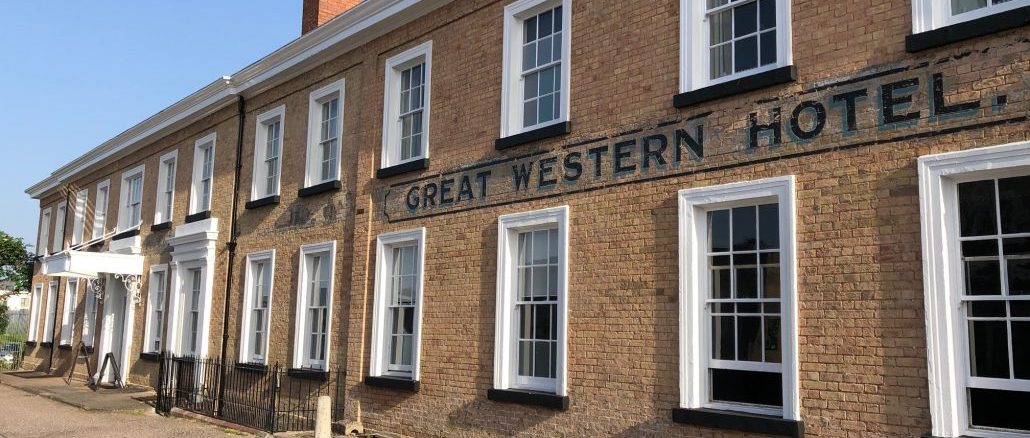 A new hotel in Taunton opened its doors last week (Friday 28 June) to guests from across Somerset including Mrs Anne Maw, Her Majesty's Lord-Lieutenant of Somerset as well as High Sheriff Johnnie Halliday and local councillors.
YMCA Dulverton Group's Great Western Hotel invited guests on a tour of the newly renovated building, where work began in in November 2018, before hearing from YMCA Dulverton Group CEO, Martin Hodgson and Somerset West and Taunton Council chair, Hazel Prior-Sankey.
The Grade 2 listed building was in a poor state of repair after being left derelict for a number of years, but since being purchased in 2018 by YMCA Dulverton Group (then YMCA Somerset Coast) has been fully renovated and restored to its former glory.
Now with 15 guest bedrooms, rentable office space and a lounge and café area, the Great Western Hotel is now a hive of activity from both locals and tourists.
Martin Hodgson, YMCA Dulverton Group CEO formally welcomed guests by speaking about the hard work of everyone involved in the project and acknowledged the fact that all of the tradespeople who were employed were from the local area and understood how important this building was to Taunton.
Martin said:
"We have had a lot of support on this project and I would like the thank the incredible Railway Heritage Trust who have supported us the whole way through alongside Somerset West and Taunton Council; the Nisbet Trust; Regen and EDF Energy. We have also had a great deal of support from the community, from taxi drivers to railway users giving us a boost of enthusiasm especially when we have faced particularly challenging times.
Finally, thank you to the team at the hotel, over this last period whilst work has still been happening, they have turned their hand to everything to ensure guests still have a superb experience. I am extraordinarily proud of how far we have come I believe this is the start of something really special."
Somerset West and Taunton Council chair, Hazel Prior-Sankey, also spoke at the launch and said:
"It is really great to see a project that has had support from so many places come together to transform and restore this amazing building. This is a really welcoming place and it is fantastic to see all of this pulling together as part of the regeneration of Taunton.
For the YMCA, the uses this building is being put to is fantastic, and with projects such as getting young people into apprenticeships, and with all of these things that are happening here, the council is very proud to be involved with all of you in this work and from us and the community, we wish you all the very best in this amazing endeavour."
The Great Western Hotel is now open to guests. For more information about the facilities on offer visit https://www.thegreatwesternhotel.org/