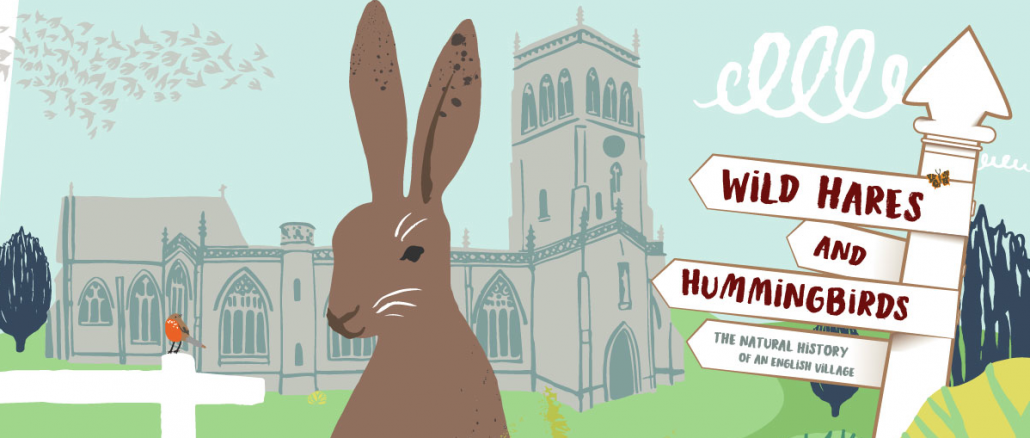 Visitors to the Museum of Somerset can discover more about the county's animals, plants and birds in a playful, new exhibition opening this summer. Based on the book, 'Wild Hares and Hummingbirds: The Natural History of an English Village', by the naturalist Stephen Moss, the exhibition runs from 20 July to 26 October.
Stephen is one of Britain's leading natural history writers, broadcasters and wildlife television producers. His book tells the story of wildlife through the seasons in his home village of Mark, on the edge of the Somerset Levels. The exhibition brings together his celebrated nature writing with beautiful, original illustration by the graphic artist Stephanie Cole. Stephanie is probably best known in the West Country for her striking illustrations that decorate the interiors at Gloucester Services.
Sam Astill, Head of Museums for the South West Heritage Trust, said: "We're delighted to be bringing together the creative talents of Stephen and Stephanie for this original exhibition. It's packed full of fun, interactive, hands-on activities for families to enjoy during the school holiday."
Stephen Moss added: "The book is a celebration of the British countryside and why it matters to all of us, wherever we live. It's exciting to see it given a new lease of life and I hope the exhibition will help inspire young visitors to connect with the natural world."
'Wild Hares and Hummingbirds' is part of a summer of exhibitions, events and activities at the Museum of Somerset where visitors can explore more about the natural world. Throughout the summer holidays the museum will be running 'Wildlife Wednesdays' with weekly themed activities for families. From 27 July to 7 September there is also a display of artworks by the printmaker Jackie Curtis celebrating the landscapes and wildlife of the Somerset Levels.
Oh – and in case you were wondering about hummingbirds in Somerset, they're a species of hawk-moth!
The Museum of Somerset is part of The South West Heritage Trust, an independent charity that protects and celebrates Somerset and Devon's rich heritage.
Visit www.museumofsomerset.org.uk for more information.