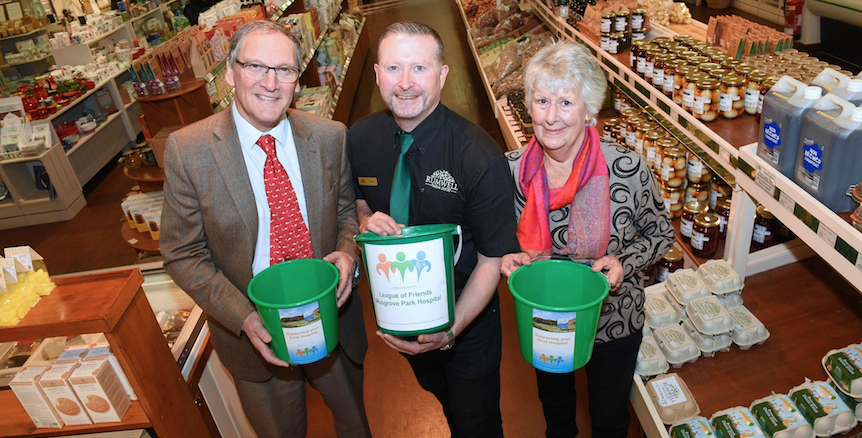 KEEN quizzers in Somerset are invited to sign up for a Charity Quiz & Supper Evening taking place at an award-winning farm shop in the county.
The event, which is in aid of Compass Disability Services and League of Friends Musgrove Park Hospital, will take place at Rumwell Farm Shop's café on Friday, September 13 at 7pm.
Anne Mitchell, Joint Owner of the farm shop, explained: "This is our third and final charity quiz night of the year so don't miss out on having a get together with your friends, testing your knowledge and helping to raise money for two worthy charities.
"There is a maximum of eight people per team with a chance of winning a prize and the glory of taking home the Rumwell Cup.
"During the Charity Quiz & Supper Evening there will also be a raffle with a selection of prizes from our shop, our suppliers and friends. All of the money from the raffle will be donated to the charities.
"Supper will be served from 7pm with hot food choices followed by a choice of desserts. The food options include beef curry, vegetable lasagne, sweet & sour pork with rice, chips or salad. For dessert, Mississippi mud pie, fruit trifle and treacle sponge with custard. However, we can also cater for all dietary requirements if informed before the event."
The supper will cost £15.99 for two courses and the price includes a donation to the charities. To book a table, please call 01823 461599 ext 4.
Compass Disability Services is a user led charity and its Board of Trustees is comprised of at least 80% disabled individuals. The charity has adopted the Social Model of Disability as a way of working to remove barriers which exclude disabled people from equality of opportunity.
It also runs Compass Wellbeing, which is the first dedicated, fully-inclusive wellbeing centre in Taunton. It aims to offer a wide range of activities, therapies and experiences that benefit members of the community, promote integration and tackles the problems caused by isolation, exclusion and loneliness.
While the charity has a background in working with disabled people, the wellbeing centre is open to people of all ages and abilities and boasts a café, garden, hydro pool and sensory room.
League of Friends Musgrove Park Hospital was formed in 1959 by the Rotary Club of Taunton. It promotes voluntary service in the hospital and raises funds to buy extra equipment over and above what the NHS can afford.
The charity runs a shop in the Duchess Building and a trolley service around the wards, supplying patients, visitors and staff with some of the little extras to make life more comfortable.
Bastable Lodge opposite A&E was also built by the charity to accommodate relatives of acute patients free of charge in times of crisis. Hundreds of individuals and families have benefitted from the lodge. To add to all this, League of Friends Musgrove Park Hospital has supported the New Jubilee Building with £422,000 worth of equipment.
Rumwell Farm Shop is an independent, family-run, award-winning business owned by the Mitchell family. It was originally a potato store, when David and Anne Mitchell began selling their potatoes and free-range eggs at the gate.
Due to customer demand, the range of products soon increased, and the farm shop grew into the place it is today. David and Anne's sons, James and Jack, are now also involved in the business as well as daughter-in-law Sophie.
Rumwell Farm Shop has a traditional butchery counter selling free range pork and Aberdeen Angus beef reared just four miles away on the family farm. There is also a delicatessen, bakery, jam kitchen, food hall, wine cellar and gift room.
Home grown potatoes are also still available, when in season, as well as everything from fruit, vegetables and groceries to plants, flowers, gifts and cards.
The Rumwell Café can seat approximately 80 people. The food prepared in the café kitchen is sourced from the farm shop, the Mitchell family farm and regional suppliers.
Families are welcome to the café and there is a menu especially for children. The café also serves afternoon teas, carvery on a Sunday and is licensed to sell alcoholic beverages.
The Charity Quiz & Supper Evening in aid of Compass Disability Services and League of Friends Musgrove Park Hospital will take place at Rumwell Farm Shop on Friday, September 13 at 7pm.
For more information, please call Rumwell Farm Shop, which is located in Rumwell between Taunton and Wellington, on 01823 461599, visit www.rumwellfarmshop.com, follow the company on Twitter at www.twitter.com/rumwellfarmshop or log on towww.facebook.com/Rumwellfarmshop.