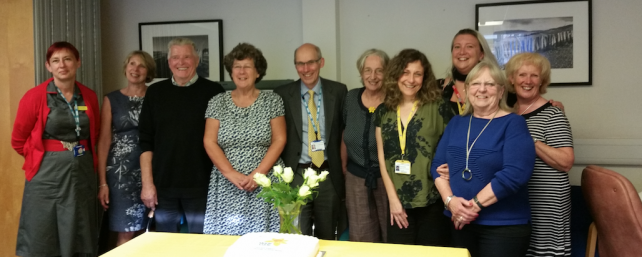 The Marie Curie Companions service, based at Musgrove Park Hospital in Taunton, is celebrating its 5th anniversary.
The unique service, launched in 2014, has provided tailored and compassionate support to almost 1000 people who have died on the hospital's wards, as well as their family and loved ones.
A team of 30 volunteers, specially-trained by Marie Curie, have dedicated hours of their own time to be with patients in their final days and hours. They have provided hundreds of families and carers with emotional support and the reassurance that someone is there to sit with their loved one if they cannot be there, or simply need a rest knowing someone else will be there.
The dedicated team of volunteers were joined by Marie Curie and Musgrove Park Hospital staff to celebrate the service milestone at a tea party on Tuesday (11th September).
Julia Bearne, Marie Curie Companions Service Manager said: "It's wonderful to look back and read the feedback we receive from families, it is clear that our volunteers are making a huge difference to people during what can be a very difficult time.
"We are incredibly grateful to each one of our Companions. We will always welcome more volunteers. It can be an emotional experience, but one that many of our team say it is rewarding and a true privilege."
For volunteer Lorraine Roberts, being a Companion has inspired a new career. Lorraine said: "I thank Marie Curie from the bottom of my heart for accepting me as a Companion and giving me this incredible and valuable experience.
"Being a Marie Curie Companion and sitting with the patients, helping people at the end of their lives has helped me come to the realisation that palliative care nursing is the path I am supposed to take."
"During my time as a Companion I learnt many new skills. I felt a compassion on a level I thought I could never feel for people I didn't know. I would encourage anyone to take up this opportunity if they have the chance."
Dr Charlie Davis, consultant – palliative medicine, at Musgrove Park Hospital and Somerset Partnership NHS Foundation Trust, said: "The Marie Curie Companion service is a valuable asset to our hospital. The volunteers deserve all the praise and thanks they get."
Marie Curie Companions have five weeks of training to equip them with the skills and knowledge they need to become a Companion. This includes patient confidentiality, communication skills, and issues concerning bereavement and loss. There is also a chance for volunteers to receive further training such as dementia awareness.
If you would like support from the Marie Curie Companions Service or if you are interested in becoming a Marie Curie Companion please call 0800 3047 412 Monday – Friday. At weekends and on Bank Holidays please call 08450738696 between 10am – 3pm. More information can be found at www.mariecurie.org.uk/companions.