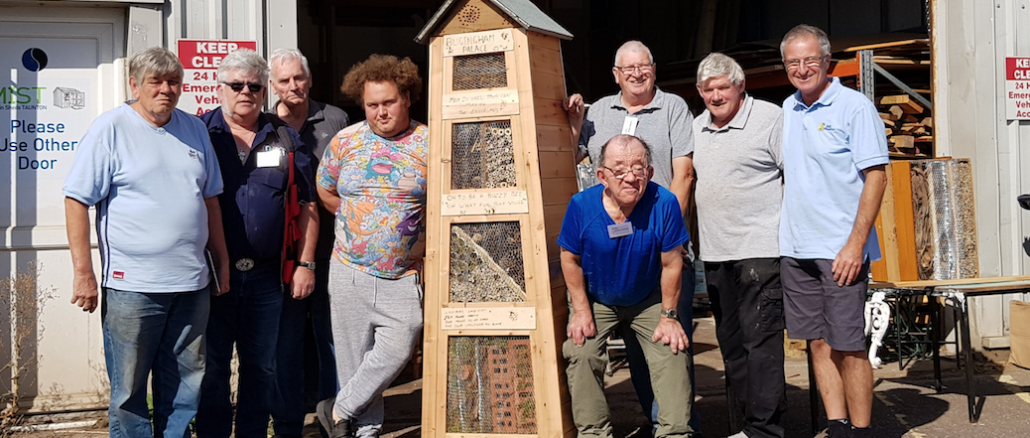 The Taunton Men in Sheds (MIST), based on Belvedere Trading Estate are celebrating their first year anniversary. Having opened in September 2018, thanks to National Lottery funding the Shed has grown massively during the year with now over 60 members.
Men in Sheds was started in Australia over 20 years ago and has now become an international organisation and is all about reducing isolation in an environment that is more hands on. The facility based has undergone a complete refit that has made the building more accessible to all of the community.
Over the past year shedders have alongside their own projects been building a range of products including bird houses, hedgehog homes and bug hotels to sell and support the ongoing development of the shed.
Shedders were surprised when a picture arrived one day from Mill Meadow Eco Holiday Homes situated just outside of Taunton, saying "can you build us one of these", the picture was of a bug hotel however it was over 6 foot tall and soon renamed "Buggingham Palace". Of course the shedders said "yes" and set about creating their own version.
John, Shed Member explained
"how it was a bit of a task to build but we were very pleased that Chris Heayns , of Mill Meadow was over the moon with it when we presented it to him on the 19th September 2019."
Taunton Men in Sheds will be holding their first AGM at 4pm on Tuesday 22nd October 2019 at Compass Disability Services, Belvedere Trading Estate in Taunton.
Robin Powell, Chair said
"we are very pleased with what we have achieved in the first year on the two days we are open. As we move forward we are looking to provide different types of sessions and we are delighted that we have received funding from National Lottery Awards for All to run sessions for young men and young shedders."
If anyone would like more information on becoming a member of Taunton Men in Sheds they can be contacted through their Facebook page or at Compass Disability Services 01823 282823.