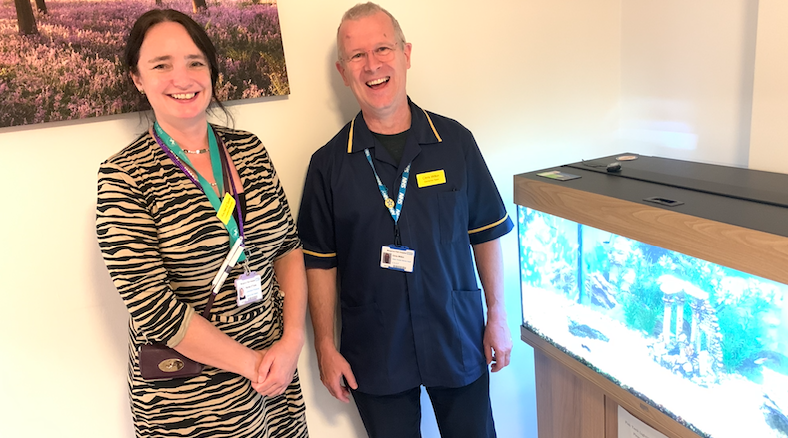 Patients at Musgrove Park Hospital are being cared for in one of the best dementia friendly environments in the country, according to national experts.
The hospital reached the final in the Dementia Friendly Hospital category of the National Dementia Care Awards, which took place last week. The awards recognise the very best practice and people in dementia care.
A team of nationally respected judges were impressed with how clinical and non-clinical staff across Musgrove Park Hospital have developed a number of initiatives to improve the experience of patients living with dementia while they are in hospital.
Judges also heard how the hospital actively makes decisions that affect the environment where patients are cared for with the needs of those living with dementia in mind.
This includes larger projects such as the choice beds and artistic features on wards, to simple things like the type of toilet roll dispensers and drinking straws.
Dr Rachel O'Toole, consultant geriatrician and clinical lead for dementia and delirium at Musgrove Park Hospital, said:
"We are delighted that staff across Musgrove Park have been recognised for the way they go the extra mile to develop ideas to make the hospital stay for people with dementia as comfortable and positive as possible.
"Our staff constantly look at ways they can make a real difference to improve and personalise the care we provide, not only for those living with dementia, but for older patients across the hospital.
"People living with dementia can feel vulnerable when in unfamiliar surroundings so it's really important that the hospital environment can adapt to the patient.
"We have a team of activity coordinators on our older people's wards who spend dedicated time with patients doing a range of activities that provide cognitive stimulation, encourage independence and promote wellbeing.
"We also regularly welcome a variety of pets, including miniature horses, dogs and donkeys to the hospital, which can really make a real difference to how patients feel when they stay in hospital."
All wards and departments at Musgrove Park Hospital have dementia champions, who are staff that regularly take part in additional specialist dementia care training.
The hospital's care of older people wards also have a group of dementia buddies, who are enthusiastic people from 16 to 88 who volunteer their free time to visit patients on a regular basis.
Dr O'Toole added:
"We also do everything possible, where appropriate, to assess whether an admission to hospital is the right thing for the individual patient.
"Our specialist team of older people's nurse practitioners, based in the emergency department, carry out a comprehensive physical and mental health assessment of patients. They are supported by a team of therapists, geriatricians, doctors and a cognitive support worker who care for the individual needs of patients with dementia.
"This approach has been a huge success with almost 400 patients in the past year living with dementia returning home from our emergency department on the same day without being admitted to hospital."