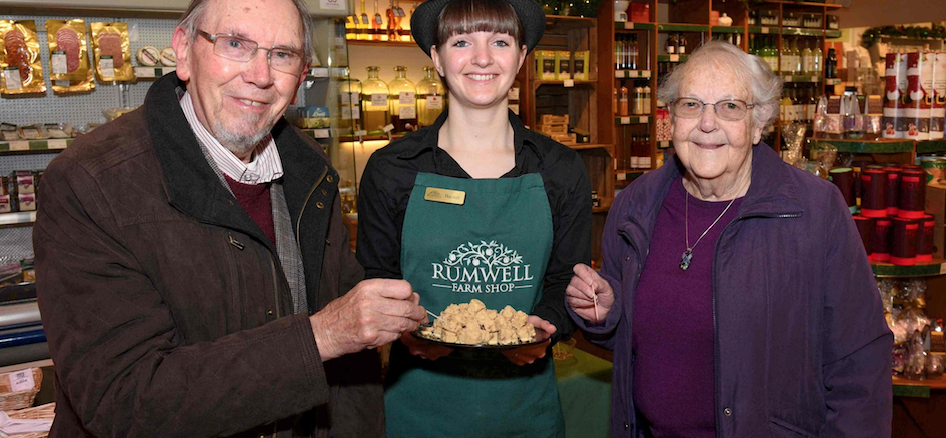 SOMERSET folk are invited to a free Christmas Fayre at a farm shop in the county this month (November, 2019) to help officially kick off the countdown to Christmas.
Rumwell Farm Shop is hosting the Yuletide event with a Craft Fayre on Saturday, November 30 and Sunday, December 1 and food and drink tastings on the Saturday only.
Anne Mitchell, Joint Owner of the farm shop and cafe, which is located on the A38 between Taunton and Wellington, said: "Christmas is just around the corner and to help people get in the festive spirit we will once again be hosting our popular free Christmas Fayre.
"There will be complimentary food tastings on the Saturday and people will be able to try some of our produce from our butchery, deli, bakery and jam kitchen including our award-winning sausages, homemade mince pies and chutneys.
"Some of our suppliers such as Cotleigh Brewery, Harry's Cider and Brambly & Gage liqueurs will also be at the event on the Saturday to offer samples of their wares. It is the ideal chance for people to try locally sourced drinks perfect for the festive season ahead.
"To add to all this, we'll also be hosting a Craft Fayre on the Saturday from 9am until 4pm and on the Sunday from 10am until 3pm. Thirty-seven local crafters will be attending to show off their handiwork during the weekend. This will give shoppers the chance to find that extra special Christmas gift that has been made locally often by hand.
"Items within the Craft Fayre to name but a few include jewellery, framed pictures, wooden gifts, Christmas decorations, handmade soaps, knitted creations and greetings cards."
During the weekend volunteers from Rumwell Farm Shop's charities of the year, Compass Disability Services and League of Friends Musgrove Park Hospital will also be at the farm shop. They will be on hand to chat to people about what they do to help people in the community and will be selling raffle tickets in aid of the charities to win a Rumwell hamper.
Rumwell Farm Shop is an independent, family-run, award-winning business owned by the Mitchell family. It was originally a potato store, when David and Anne Mitchell began selling their potatoes and free-range eggs at the gate.
Due to customer demand, the range of products soon increased, and the farm shop grew into the place it is today. David and Anne's sons, James and Jack, are now also involved in the business, as well as daughters-in-law Sophie and Donna.
Rumwell Farm Shop has a traditional butchery counter selling free-range pork and Aberdeen Angus beef reared just four miles away on the family farm. There is also a delicatessen, bakery, jam kitchen, food hall, wine cellar and gift room.
Home grown potatoes are also still available, when in season, as well as everything from fruit, vegetables and groceries to plants, flowers, gifts and cards.
The Rumwell Cafe can seat approximately 80 people. The food prepared in the cafe kitchen is sourced from the farm shop, the Mitchell family farm and regional suppliers.
Families are welcome to the cafe and there is a menu especially for children. The cafe also serves afternoon teas, carvery on a Sunday and is licensed to sell alcoholic beverages.
The Christmas Fayre will take place at Rumwell Farm Shop on Saturday, November 30 from 9am until 4pm and Sunday, December 1 from 10am until 3pm. The food and drink tastings will only be taking place on the Saturday.
For more information, please call Rumwell Farm Shop, which is located in Rumwell between Taunton and Wellington, on 01823 461599, visit www.rumwellfarmshop.com, follow the company on Twitter at www.twitter.com/rumwellfarmshop or log on to www.facebook.com/Rumwellfarmshop.