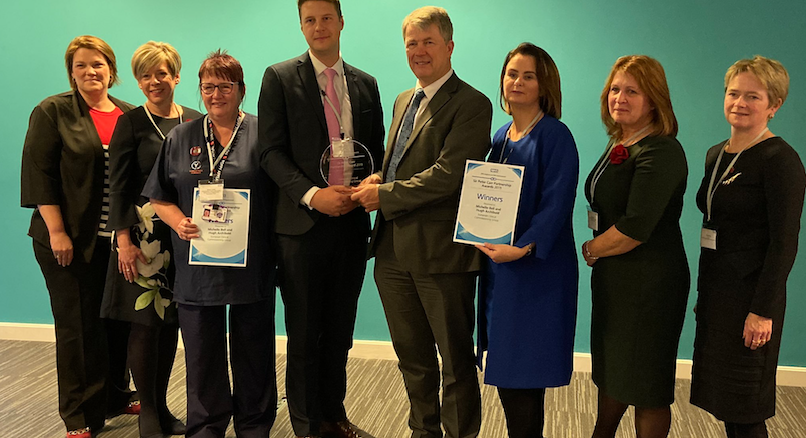 An innovative Somerset project which is supporting people to remain safely in the community has won the prestigious St Peter Carr Partnership Award! More than 80 nominations were received this year and only eight finalists were invited to Leeds to be interviewed for the award.
The improvement initiative launched by Somerset Clinical Commissioning Group and delivered in partnership with Yeovil District Hospital NHS Foundation Trust, three Somerset GP Practices (Diamond Health Group, Queen Camel Surgery and Preston Park Surgery) and local nursing homes supports people to receive care at a location of their choice while also preventing avoidable hospital admissions.
Hugh Archibald, Quality Lead – Urgent Care and Risk Management, Somerset Clinical Commissioning Group, said: "We know that for most people the best bed is their own bed. We are proud to work with our partners to support people to, where appropriate, stay in their own familiar environment to receive the care and treatment they need. This is making a real difference to patients and staff."
Michelle Bell, Nursing Home Improvement Facilitator, Somerset Clinical Commissioning Group, said: "Through training, simulation and education we are supporting staff to use the RESTORE2 tool. This tool helps staff to recognise early soft signs of a deterioration in a person's health and wellbeing, and to take observations, respond and escalate. The training and the tool support nurses to make clinical decisions, communicate clearly with other health professionals and facilitate appropriate triage and prioritisation.
"So far we have implemented this within three nursing homes in Somerset and we are already seeing a real positive impact. This project is a significant and important element of our Somerset community to acute care pathway project and we hope to expand this training across the county."
Hugh and Michelle were interviewed about the project along with Emma Young, Deteriorating Patient Lead Nurse at Yeovil District Hospital, by the judging panel last month.