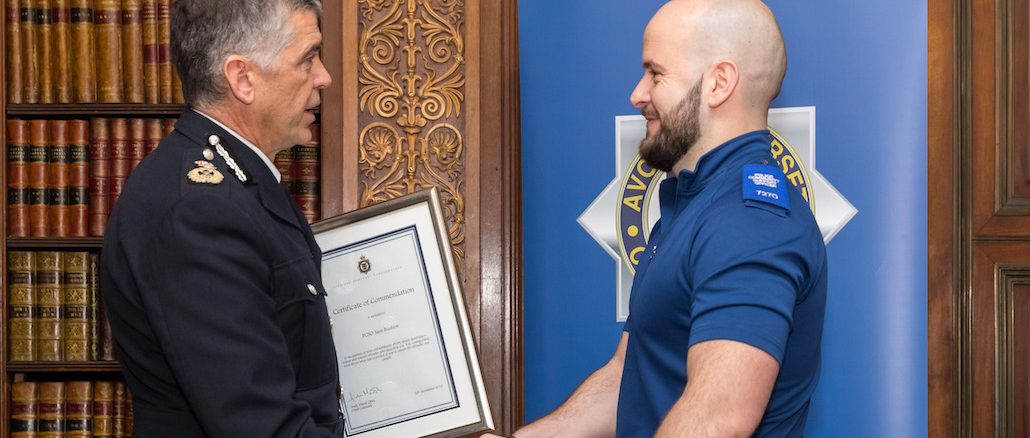 Taunton-based PCSO Sam Bushen has been commended for his 'outstanding bravery' after being stabbed with scissors whilst detaining a suspect.
PCSO Bushen was one of the officers, police staff and members of the public honoured in front of their friends and families at a special Somerset force awards ceremony held by Avon and Somerset Police.
The ceremony was attended by Chief Constable Andy Marsh and the High Sheriff of Somerset Johnnie Halliday.
Whilst patrolling his area in August 2019, Taunton-based PCSO Bushen spotted an offender wanted for almost 20 theft and burglary offences.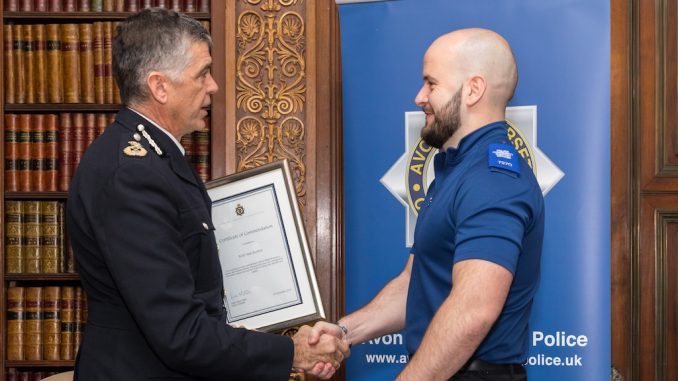 Having known this individual over many years PCSO Bushen approached him and explained that he was to be arrested and detained.
Sam kept the man talking whilst awaiting back-up support. However the offender had concealed scissors and suddenly began stabbing the officer in the arm in a bid to escape.
In the face of extreme and unexpected violence and despite having suffered one stab wound and several near misses, Sam continued to restrain the offender until his colleagues arrived.
The footage caught on Sam's body worn video camera demonstrated the sustained energy the offender used to try to escape the officer and his disregard of the injuries he was inflicting, leading Chief Constable Andy Marsh to herald Sam as "one of the most courageous people we have in the force."
The offender was 'not only a prolific offender' but a 'danger to the public'.
In detaining him in the face of high risk to himself, PCSO Sam Bushen demonstrated outstanding bravery in protecting his community and for his actions received a Chief Constable's commendation.
Chief Constable Andy Marsh said:
"It is a great pleasure to attend this ceremony and recognise the often jaw-dropping incidents that our police and public have been involved in, including several where, through prompt and courageous action, lives have been saved or protected.
Hearing the stories behind these awards reminds me how much our service has changed over the years, with huge challenges such as globalised crime and child sexual exploitation – unheard of years ago – increasingly changing the face of policing.
As our guests modestly and humbly step up to accept what are 'once-in-a-lifetime' awards, I have the pleasure of seeing what they don't – the pride in the eyes and faces of their friends, families and supporters.
I thank you all for being here today to share in this ceremony."
The High Sheriff of Somerset Johnnie Halliday said:
"I have been privileged in my months in office to gain understanding from seeing our police in action – being briefed on their challenges, experiencing a ride-along in Taunton, walking the beat with PCSOs in East Somerset and watching the police in court.
I have also enjoyed meeting the next generation – the Mini Police and Cadets – and hearing of their transformations from shy teenagers to young leaders.
What stands out to me is the dedication of the brave men and women who go above and beyond their duty. This is represented here today by both officers and members of the public.
As Robert Peel quoted: "Police are the public and the public are the police."
"On behalf of The Queen and the residents of Somerset, thank you for keeping us safe."