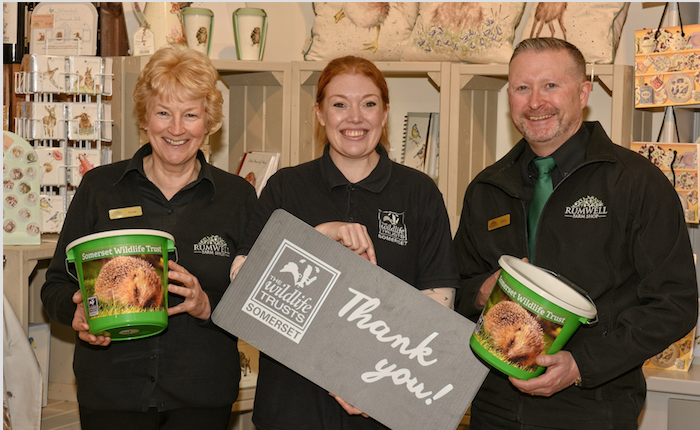 STAFF at a farm shop in Somerset have this month (February 2020) chosen to support a conservation charity in the county throughout 2020.
Rumwell Farm Shop has selected Somerset Wildlife Trust, based in Taunton, as one of its charities of the year and will be fundraising for it in a number of ways.
Anne Mitchell, Joint Owner of the farm shop, which is located on the A38 between Taunton and Wellington, said: "We're delighted to announce Somerset Wildlife Trust as one of our chosen charities of the year for 2020.
"With the help of volunteers and the support of more than 20,000 members, the charity looks after some of Somerset's most iconic landscapes and special wildlife.
"The organisation restores, strengthens and connects habitats and green spaces on a landscape scale so nature can recover and thrive in the future. It aims to inspire people and communities to put nature into their everyday life and stand up for the natural environment.
"Throughout the year we'll be raising awareness of the wonderful work it does and donating 10p per pack from every sale of Bon Bons chocolate jazzies to the charity. To add to this, we will also donate half of the proceeds from all our 5p carrier bags sold in 2020. Plus, we'll be hosting some fundraising events during the year. We hope to raise at least £2,000 for the organisation."
Somerset Wildlife Trust is one of 46 Wildlife Trusts working across the UK. It is a science-led movement focused on restoring habitats to support a wide range of wildlife and restore natural processes that are essential for healthy landscapes, and provide vital services such as clean air and water, food, carbon absorption and flood alleviation.
With the invaluable support of volunteers and members it manages more than 1700 hectares of land for wildlife and people in Somerset. It also works with other organisations and landowners to protect and connect wildlife sites across the county and inspire local communities and young people to care for wildlife where they live.
Kate Wilson, Community and Events Fundraising Manager at Somerset Wildlife Trust, said: "We're thrilled to have been chosen as one of Rumwell's charities of the year. Not only will the funds they raise help us continue our vital work to protect wildlife here in Somerset, we're hoping the partnership will remind their customers just how much we depend on bees, butterflies and other pollinators for the things we eat.
"From the sugar and chocolate in the chocolate jazzies, to jams and honey, cider, wine, tea and coffee, the list of food we depend on pollinators for is endless.
"Fundraising to support our work is easier than you think, all it takes is a few motivated staff, like those at Rumwell Farm Shop, to do a bake sale, raffle, or enter a team into one of our upcoming challenge events. We're here to help local businesses put back into the landscape that surrounds them, so please do get in touch!"
Rumwell Farm Shop is an independent, family-run, award-winning business owned by the Mitchell family. It was originally a potato store, when David and Anne Mitchell began selling their potatoes and free-range eggs at the gate.
Due to customer demand, the range of products soon increased, and the farm shop grew into the place it is today. David and Anne's sons, James and Jack, are now also involved in the business, as well as daughters-in-law Sophie and Donna.
Rumwell Farm Shop has a traditional butchery counter selling free range pork and Aberdeen Angus beef reared just four miles away on the family farm. There is also a delicatessen, bakery, jam kitchen, food hall, wine cellar and gift room.
Home grown potatoes are also still available, when in season, as well as everything from fruit, vegetables and groceries to plants, flowers, gifts and cards.
The Rumwell Cafe can seat approximately 80 people. The food prepared in the cafe kitchen is sourced from the farm shop, the Mitchell family farm and regional suppliers.
Families are welcome to the cafe and there is a menu especially for children. The cafe also serves afternoon teas, carvery on a Sunday and is licensed to sell alcoholic beverages.
For more information, please call Rumwell Farm Shop, which is located in Rumwell between Taunton and Wellington, on 01823 461599, visit www.rumwellfarmshop.com, follow the company on Twitter at www.twitter.com/rumwellfarmshop or log on to www.facebook.com/Rumwellfarmshop.