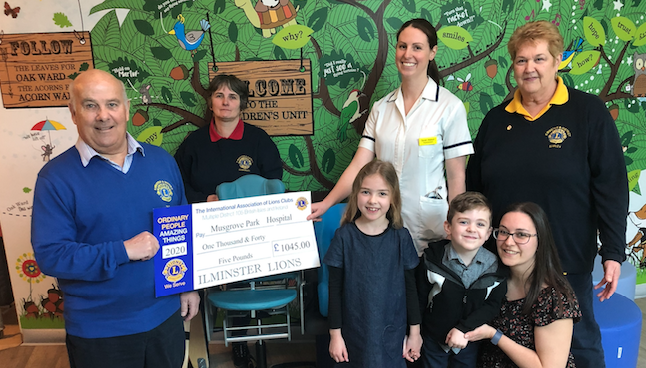 A family from Chard has raised £2,000 to help buy a set of four specialised seats for the benefit of children who use Musgrove Park Hospital's paediatric unit.
Both Lisa and Mike's children were cared for by the hospital's paediatricians when they developed encephalitis – an inflammation of the brain.
When their son Reece was admitted he was given a specialised seating system, but unfortunately only one of these seats was available, meaning it was only possible for one child to use at a time.
When the family began fundraising they were approached by the Ilminster Lions Club and Jemima Layzell Trust, who both pledged money to help fund further seating systems.
With the money that they kindly donated a further three seats have been purchased, and all four seats were officially unveiled this week.
The remaining fundraising money will be donated to the Encephalitis Society, which offers support after diagnosis.
Lisa said: "Both of my children have had encephalitis and were treated at Musgrove Park. When my son Reece was admitted he was given a special chair to sit in, which allowed play therapy and movement around the hospital, but we noticed that this was the only chair of its type in the unit.
"We wanted to make sure that as many families as possible could have the positive experience that we had with the specialist chairs so decided to start a fundraising campaign. This included a tombola, bingo, cream tea and music evening, along with the generous donations from the Ilminster Lions and Jemima Layzell Trust."
Sarah Watson, a physiotherapist at Musgrove Park Hospital, said:
"We are so grateful to Lisa and everyone who has helped raise money to buy these specialist chairs, which will be of huge benefit to the children who use our unit.
"The chairs have so many benefits for children and means that those with a respiratory condition don't need to lay on their back, which helps them breathe easier. It also helps those with brain injuries to interact better, which also improves their general development.
"The chairs are well loved by families and I think it's great that we can give children that extra bit of normality while they are in hospital."