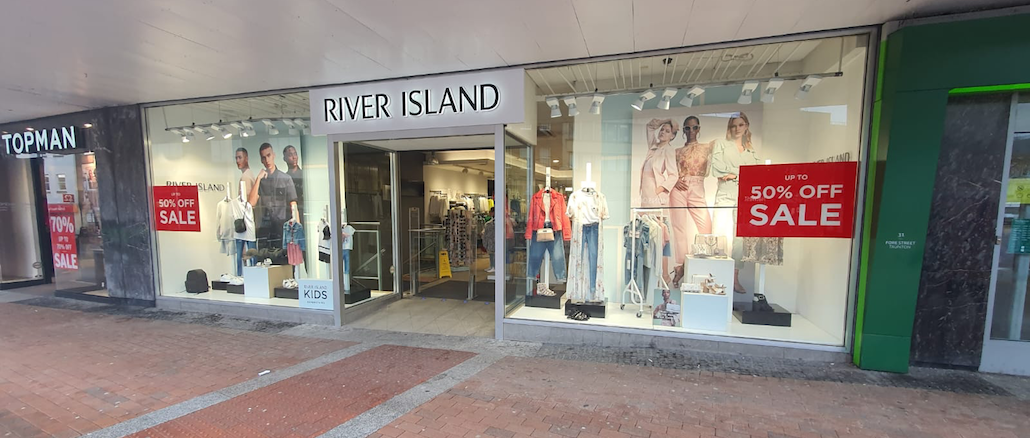 Taunton's River Island will close 'for a while' to protect colleagues and customers, the company has announced.
Customers can still shop online while its stores temporarily shut.
The store will close tomorrow (Friday).
River Island made the announcement earlier today:
"Dear friends of RI,
Like us, we know you are aware of the impact of Coronavirus (Covid-19) and are probably exhausted by all the information coming your way.
This is an unsettling time for everyone, and we don't want to add to the overload. That said, we do want to let you know how we are handling things at RI.
The safety and wellbeing of our community is our highest priority right now and we are closely following government advice to make the best decisions for our colleagues, customers, suppliers and partners.
It's with a heavy heart that we announce that we are closing our stores for a while. Yesterday (18th March) all RI stores in the Republic of Ireland closed until further notice. Today (19th March) our London stores will be closing and all remaining stores will follow tomorrow (20th March).
These difficult choices have been made to protect our people – including you – as the government's advice is updated, and public transport and schooling are now affected.
We are doing our very best to keep on delivering the service and style you love online, where you can still shop with us 24/7.
We have thought a lot about how we can connect with you, in the right way, during this very unusual time. We'll be honest, we still don't know exactly what that looks like.
Stay tuned to our social channels, join the conversations and let us know how you want to engage with us in the coming weeks.
Now more than ever we want to share positivity, entertainment and inspiration to help take your minds (and ours) off the worries and challenges we are all facing.
There's one thing we know for sure, lots of things may be closing, but our community will always stay open.
Stay safe & remember, we are in this together
Love
River Island"