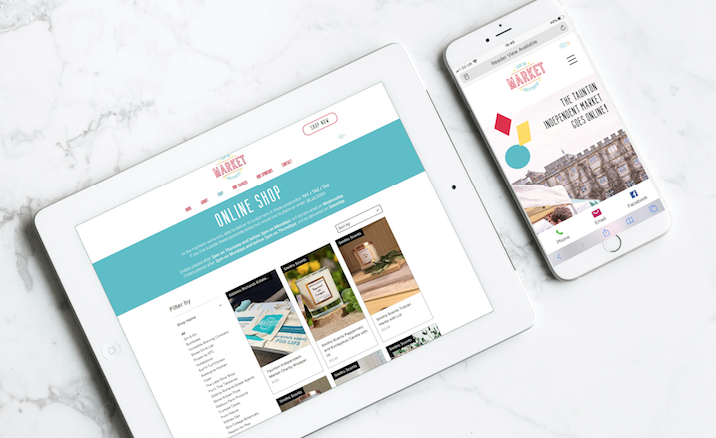 The hugely successful launch of the Taunton Independent Market on Castle Green, on Sunday 8 March, sadly seems a lifetime ago. It was back during a time when we could freely amble around our lovely town with friends and family, drink coffee and enjoy delicious street food all whilst upbeat music played in the background. More than 7000 people came into Taunton Town Centre, on a slightly stormy Sunday morning, to peruse the 65 market stalls that filled Castle Green selling local products.
Fast forward 7 weeks and the world is a very different place. Not deterred by the current Covid19 restrictions preventing the April Market from taking place, and riding high on the success of Taunton's first Independent Market, organiser Michelle Beck of By Invitation Events, has set up an online directory of traders and the opportunity to buy artisan goods from local traders, online. With over 20 artisan food and drink producers already signed up to the shop, showcasing in almost 200 local products ranging from cheese, meat, award winning pies, scotch eggs, cakes, gin, cider, bread and much more – there is sure to be something for everyone.
There will be twice weekly deliveries to TA1, TA2 and TA3 residents initially, with the first delivery planned for Wednesday 13th May. It is anticipated that the delivery area will expand to other postcodes in the Taunton Deane area soon and there is already a fleet of 15 delivery drivers and their vehicles lined up to help.
Michelle said, "This has been a testing time when lots of businesses have had to re-think their ways of working. At the Taunton Independent Market we decided very quickly that we would take the market on-line, following such positive feedback from traders and customers alike. The market launch in March was an enormous success and we knew that it was exactly what our County Town needed.
We are hugely grateful to our media partners Daffodil PR and Taunton based brand agency Think! Associates who, together have built us a full e-commerce website selling goods from over 25 sellers and a comprehensive stallholder directory. Also thanks must go to Company Spaces in the centre of Taunton who are allowing us to use their wonderful space as a depot, Gibbins Richards Estate Agents for sponsoring our Taunton Independent Market reusable cotton bags, Viper Gin for providing us with hand sanitiser and special thanks to our main sponsor Taunton School who have made full-face visors to protect our packers and delivery drivers."
The plan is that, once the Covid19 restrictions are relaxed in coming months, the Taunton independent Market online will continue to run alongside the monthly markets on Castle Green.
Please visit www.tauntonmarket.co.uk