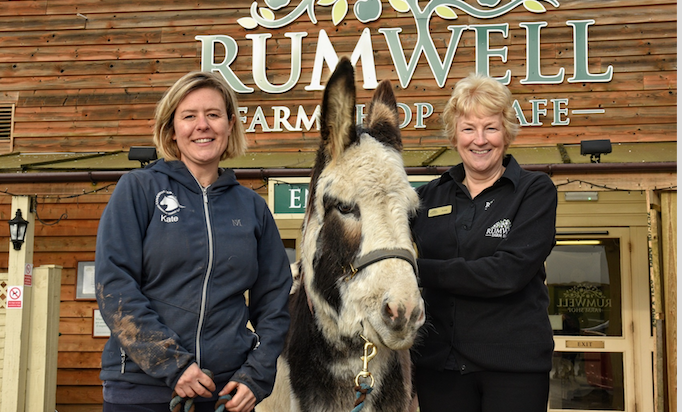 SOMERSET folk are being invited to support two charities in the county during the current COVID-19 pandemic by purchasing sweets from a farm shop in the area (June 2020).
Rumwell Farm Shop is donating 10p from every bag of wine gums sold to Conquest Centre and 10p from each pack of chocolate jazzies to Somerset Wildlife Trust until the end of the year.
Anne Mitchell, Joint Owner of the farm shop, which is located on the A38 between Taunton and Wellington, explained: "Conquest Centre in Norton Fitzwarren and Somerset Wildlife Trust based in Taunton are our chosen charities of the year for 2020.
"We are continuing to support our charities throughout this difficult time by donating 10p from two of our sweet offerings to them. We will also split all the money we raise from our 5p carrier bags between the charities.
"Conquest Centre is dedicated to providing a range of horse-based activities for adults & children with a wide range of disabilities. They are currently closed due to the COVID-19 outbreak and have lost all their income, but they are in need of funds to help keep their horses healthy during the pandemic.
"In line with government advice, and to play their part in not spreading COVID-19, Somerset Wildlife Trust has had to cancel all events and volunteer activities. Ensuring their members, supporters and visitors to their nature reserves stay safe is extremely important to them and social distancing guidelines have been put in place and hides have been closed.
"We hope people with a sweet tooth will be swayed to buy the wine gums and chocolate jazzies and help us raise money for two worthwhile local charities during this difficult time."
Conquest Centre's aim is to create an inclusive equine environment that will allow people to achieve their personal goals. It offers coaching for disabled and able-bodied clients.
All its activities are delivered by qualified instructors with specialist expertise in working with people with disabilities, behavioural difficulties and emotional problems, and are supported by a team of specially trained volunteers.
Its core activities include riding, carriage driving, horse care, back ­riding and sensory work. It aims to provide either group or private sessions as appropriate.
Somerset Wildlife Trust has been protecting vulnerable wildlife and preserving Somerset's wild places for more than 50 years and, with more than 20,000 members, is the largest conservation charity in the county.
With the invaluable support of volunteers and members it manages more than 1700 hectares of land for wildlife and people in Somerset. It also works with other organisations and landowners to protect and connect wildlife sites across the county and inspire local communities and young people to care for wildlife where they live.
Rumwell Farm Shop is an independent, family-run, award-winning business owned by the Mitchell family. It was originally a potato store, when David and Anne Mitchell began selling their potatoes and free-range eggs at the gate.
Due to customer demand, the range of products soon increased, and the farm shop grew into the place it is today. David and Anne's sons, James and Jack, are now also involved in the business, as well as daughters-in-law Sophie and Donna.
Rumwell Farm Shop has a traditional butchery counter selling free range pork and Aberdeen Angus beef reared just four miles away on the family farm. There is also a delicatessen, bakery, jam kitchen, food hall, wine cellar and gift room.
Home grown potatoes are also still available, when in season, as well as everything from fruit, vegetables and groceries to plants, flowers, gifts and cards.
For more information, please call Rumwell Farm Shop, which is located in Rumwell between Taunton and Wellington, on 01823 461599, visit www.rumwellfarmshop.com, follow the company on Twitter at www.twitter.com/rumwellfarmshop or log on to www.facebook.com/Rumwellfarmshop.