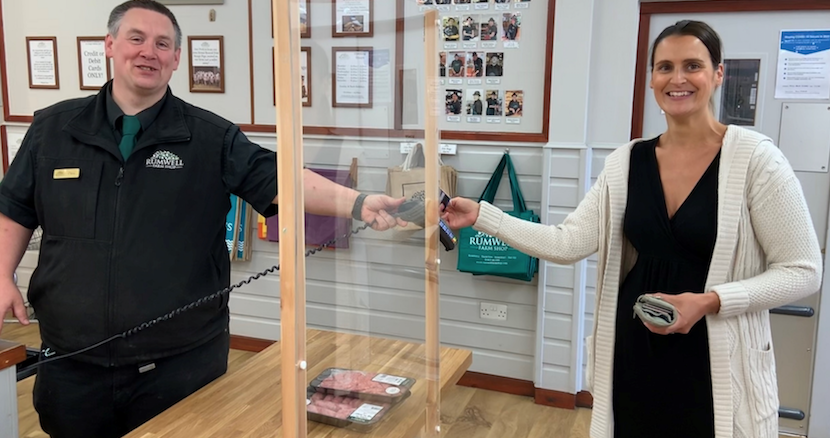 A farm shop in Somerset is hopeful that shopping habits forged as a reaction to the coronavirus will last long beyond the pandemic (June, 2020).
Rumwell Farm Shop says it's seen a surge in new customers keen to shop 'locally' and to buy from nearby producers, and its experience is one being mirrored nationwide.
Anne Mitchell, Joint Owner of Rumwell Farm Shop, which is located on the A38 between Taunton and Wellington, said: "A survey in May by the Farm Retail Association (FRA) found 92% of farm retailers saw a 'significant' rise in new customers and we've seen this too.
"People are telling us they want to buy locally and support British farmers, and that the COVID-19 experience has been the catalyst for this change in shopping habits. We have worked hard to adapt quickly to ensure our customers continue to have access to quality, fresh locally-produced food without disruption.
"Not only have we been able to keep our shop open, but we came up with convenient new ways to serve our local community by launching our new online shop and offering delivery and collection options. Within the shop we also provide a calm environment with easy to follow social distancing measures that allow shoppers to feel safe.
"The feedback we have received from new and returning customers has been hugely rewarding and gives me enormous hope that they will keep shopping with us, long after the coronavirus pandemic ends."
According to research by the FRA providing reliable access to abundant fresh seasonal produce, sourced with low food miles directly from family-run farms at fair prices, the country's huge network of independent farm shops has become a more attractive option to shoppers than ever before.
Some 79% of farm retailers polled by the FRA said they had introduced a click and collection service because of coronavirus, including in the form of completely contactless drive-thrus, while another 67% have introduced home deliveries.
As a result, farm shops across the UK have processed an estimated 1.4 million-plus orders for home delivery or collection since the government announced its lockdown rules in March.
This means farm shops are protecting hundreds of jobs and income for thousands of farmer suppliers in otherwise difficult economic circumstances. The addition of new services alone has allowed 73% of farm retailers to either hire extra staff or furlough fewer employees than they expected to.
Rob Copley, Chairman of the FRA, said: "What the last couple of months have clearly shown is that farm retailers can react nimbly to customer demands because of their size, independence and direct relationships with local farmers.
"Farm retailers are helping to keep the nation fed, offering easy access to fresh, nutritious and affordable British food. They are demonstrating that they are both caring neighbours and viable alternatives to the supermarkets, boasting shorter supply chains with lower carbon footprints.
"Run by local families for local families, supporting local farmers and local jobs, farm shops are at the beating heart of communities across the country. We just hope customers keep coming back to support them and local farmers for years to come."
Farm retailers play an important role in the rural economy and provide a welcome source of income for thousands of independent suppliers across the country, from family farms to artisan makers.
The FRA estimates that the UK's network of farm shops support thousands of local suppliers and together have a combined turnover of more than £1.5bn, including sales from farm shop cafés.
The Farm Retail Association's survey was carried out in May 2020, generating responses from 100 of its farm retailer members across the UK.
Rumwell Farm Shop is an independent, family-run, award-winning business owned by the Mitchell family. It was originally a potato store, when David and Anne Mitchell began selling their potatoes and free-range eggs at the gate.
Due to customer demand, the range of products soon increased, and the farm shop grew into the place it is today. David and Anne's sons, James and Jack, are now also involved in the business, as well as daughters-in-law Sophie and Donna.
Rumwell Farm Shop has a traditional butchery counter selling free range pork and Aberdeen Angus beef reared just four miles away on the family farm. There is also a delicatessen, bakery, jam kitchen, food hall, wine cellar and gift room.
Home grown potatoes are also still available, when in season, as well as everything from fruit, vegetables and groceries to plants, flowers, gifts and cards.
For more information, please call Rumwell Farm Shop, which is located in Rumwell between Taunton and Wellington, on 01823 461599, visit www.rumwellfarmshop.com, follow the company on Twitter at www.twitter.com/rumwellfarmshop or log on to www.facebook.com/Rumwellfarmshop.