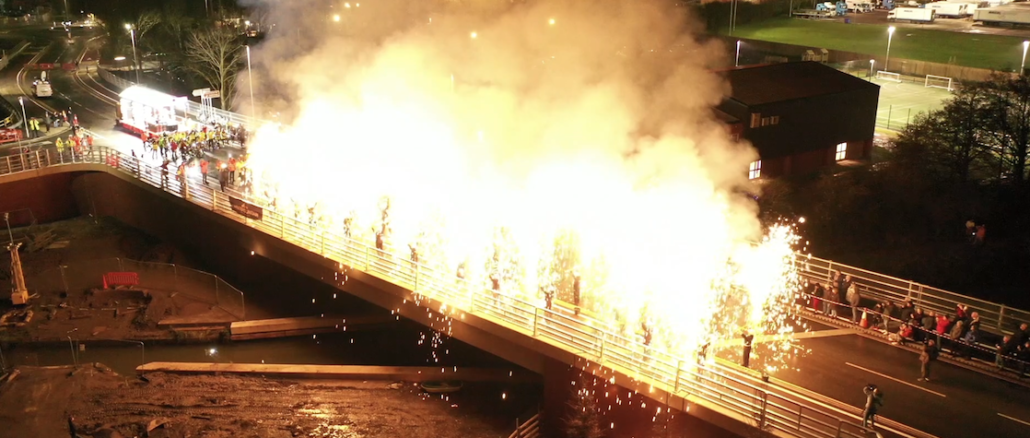 Two Somerset County Council highway projects have been recognised with prestigious awards at regional and national level.
The scheme to build the Colley Lane Southern Access Road – or Squibbers Way – in Bridgwater, delivered in partnership with Whitemountain and AECOM, has landed two more awards at the ICE South West Civil Engineering Awards – the Community Award and the Project Over £3m (New Build) Award.
Meanwhile the Yeovil Western Corridor scheme, delivered in partnership with Alun Griffiths and WSP, has been honoured nationally with a silver National Site Award at the Considerate Constructors awards.
These awards are in addition to the several others won by the Squibbers Way team in recent months.
Councillor John Woodman, Somerset County Council's Cabinet Member for Highways and Transport, said: "I'm incredibly proud of our major projects team and it's fantastic to see their hard work again recognised by industry experts at a regional and national level. The competition for these prizes is fierce and our highways schemes have beaten off some really well-known projects to win – showing we truly are leading the way here in Somerset.
"I'd like to thank our staff, Whitemountain, Alun Griffiths and all our contractors and partners who have helped deliver these hugely complex schemes so effectively."
The ICE South West Awards celebrate civil engineering projects that have made significant contributions to local communities – with other winners including The Wave near Bristol and Tintagel Castle Bridge in Cornwall.
The Judging Panel praised the community involvement in the £18.4m Squibbers Way scheme and added: "The ground conditions, the piling, the contaminated land, flood risk, the longest span bridge in Somerset – all these different elements and challenges came together in this clever scheme."
Whitemountain's Project Manager said: "It has been a privilege for Whitemountain to have delivered Squibbers Way for Somerset County Council and the people of Bridgwater.
"Squibbers Way was a fantastic project to have been involved in. It was a technically challenging scheme which required innovation and a huge effort from the whole team to deliver the project safely, on time and budget. We are very proud of our team and delighted the project has received well deserved recognition from leading institutions ICE, CIHT and RICS for delivering an excellent infrastructure project. The whole delivery team went above and beyond contracted obligations, including many hours of voluntary service and fundraising to support the local community during the duration of the project."
The Yeovil Western Corridor scheme involved improvements across a number of busy junctions and roundabouts and was completed in July 2019.
Last week it was named as one of the highest performing construction sites in the country at the Considerate Constructors National Site Awards and was praised for demonstrating excellent consideration towards the public, its workforce and the environment through adhering to the Scheme's Code of Considerate Practice.
Amanda Long, Considerate Constructors Scheme Chief Executive, said: "Achieving any level of CCS National Site Award requires dedication, effort and commitment to raising standards of considerate construction and we are delighted that many CCS-registered sites have achieved the exceptional level of performance in order to receive a National Site Award this year."
Dr Simon Dunn, Operations Director at Alun Griffiths, said: "Griffiths were proud to have been part of the successful delivery of the Yeovil Western Corridor improvements and were grateful for the support and patience of the travelling public during the improvement works.
"Given the location of the scheme and impact on the local residents and businesses Griffiths worked alongside Somerset County Council to deliver community benefits in line with our Sustainability Challenge commitments. To have these achievements recognised nationally by Considerate Constructors Scheme is testament to the hard work of the Project Team and the focus they gave to supporting local communities, ensuring the welfare and safety of the workforce and minimising our impact on the environment whilst improving the image of construction."
You can find out more about the ICE awards and watch a video of the award winning projects, including Squibbers Way, at https://www.ice.org.uk/news-and-insight/latest-ice-news/inspirational-engineering-projects-win-ice-awards
Find out more about the Considerate Constructors Scheme at: https://www.ccscheme.org.uk/2020-national-site-awards-winners-announced/
Stay up to date with Somerset County Council's highways team by following @TravelSomerset on Twitter.