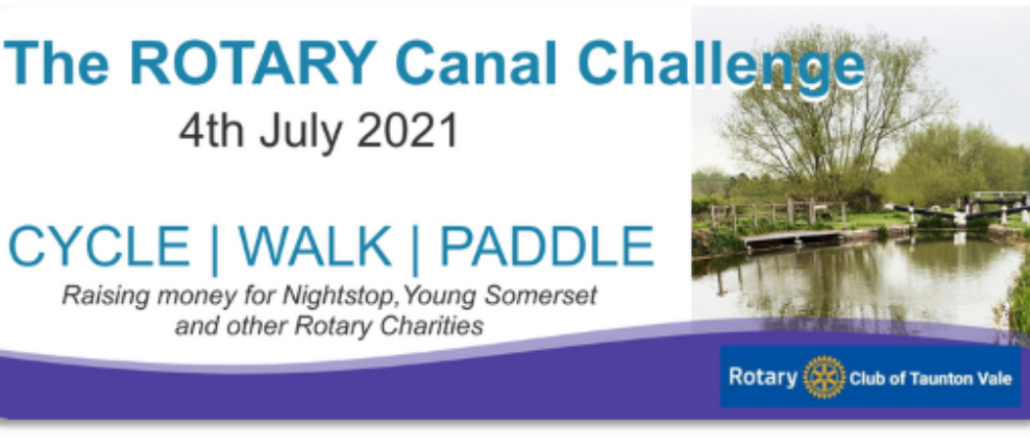 Walk, cycle or paddle for fun and for charity. That's the message for the Taunton Vale Rotary Canal Challenge, happening on Sunday 4th July.
Families and small groups are being encouraged to sign up now to take part in the Challenge which will see people travelling along the Bridgwater and Taunton Canal.
Event organiser, Kathryn Robinson-Burge from Taunton Vale Rotary Club says: "It's a brilliant way to start National Thank You Day. Join us helping some of those who have really struggled throughout this last year and a half."
Teams of one or two families or up to six from different households can walk, cycle or paddle from Firepool in Taunton to either Maunsell Lock (7 miles) or continue all the way Bridgwater Docks. There will then be a shuttle bus service to get back to Taunton. A safe road route back to Taunton will be provided for cyclists wanting to cycle a loop.
It's free for children and just a £5 entry for adults, though they hope teams will raise sponsorship or make an extra donation to their chosen charities – Young Somerset and Nightstop.
All walkers and cyclists will have the option to take to the water for a short distance, courtesy of the Somerset Boat Centre. The Centre is kindly offering a free, supervised taster session on either a paddleboard or canoe to all registered entrants.
The event has been deliberately designed so that it will be COVID-safe.
You can get further details and register via tauntonvalerotary.org.uk/canal-challenge or just search up Taunton Canal challenge.