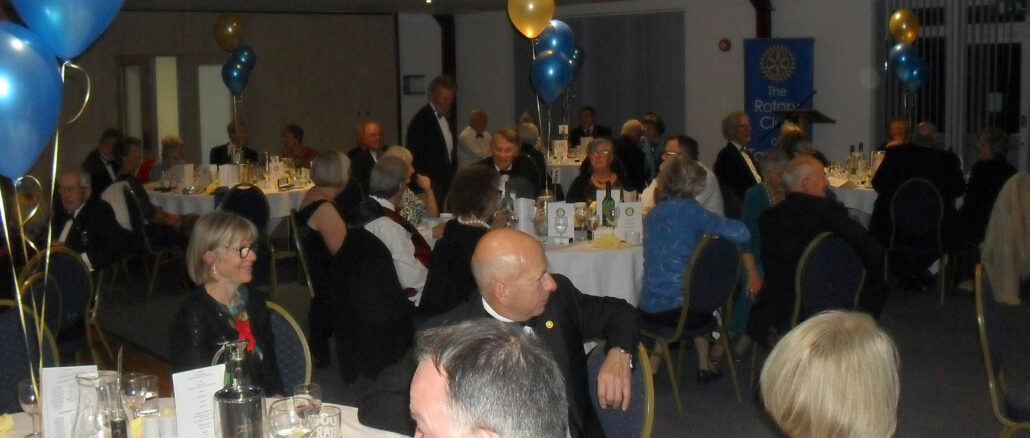 Taunton Vale Rotary Club is celebrating 40 years of community service. The Club, with its motto 'Service above Self', was formed in 1982 and has just marked the anniversary of its charter with a dinner at Taunton Rugby Club. A number of former club members returned to Taunton for the celebration. Taunton Vale Inner Wheelers marked the anniversary by presenting a bird bath which is now in place at Abbeyfield Extra Care Home.
Over the years the Club has been involved in hundreds of charitable and community initiatives, both at home and overseas. Taunton Vale Rotarians were instrumental in the building of the Abbeyfield Home in Bishops Hull, funding and delivering a purpose-built school for Taunton Opportunity Group at Wellsprings and are currently seeking to secure over half a million pounds for the Taunton East Development Trust.
"But it's not just fundraising," says this year's president, Phil Greenway. "Rotarians continue to be actively engaged in the management of all three projects and others across the town." Despite COVID the club has kept going, notably being involved in supporting the local vaccination clinics across Taunton.
President elect, Richard Austin says: "Understandably there was a lot of reminiscing at our 40th anniversary dinner but we are forward looking. This week, we are inducting 2 new members. The club has an interesting programme lined up and we are looking forward to supporting Taunton Rotary Club which celebrates 100 years in the town next year". Taunton Vale Rotary meets on the second and fourth Monday evenings of each month and for breakfast on the second Wednesday. For more information, visit tauntonvalerotary.org.uk.