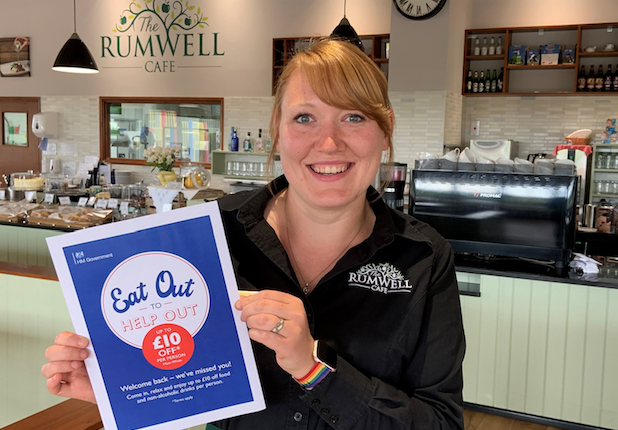 Due to the popularity of the Eat Out to Help Out scheme a farm shop near Taunton will be opening its café for two special evenings this week (August 11 and 12, 2020).
Rumwell Farm Shop's Café will be open from 6pm on Tuesday, August 11 and Wednesday, August 12 and it will give customers 50% off all food and drink, excluding alcohol.
Anne Mitchell, Joint Owner of the farm shop, which is located on the A38 between Taunton and Wellington, said: "The Eat Out to Help Out scheme has been tremendously popular with our diners and we were fully booked on Monday, Tuesday and Wednesday this week.
"The café is only normally open in the daytime, but we have decided to also open it in the evening from 6pm on Tuesday, August 11 and Wednesday, August 12 to help with the customer demand.
"It is fantastic that people in the local area are continuing to support us through what has been a difficult time.
"The Government's Eat Out to Help Out scheme means customers will get 50% off all food and drink every Monday, Tuesday and Wednesday, excluding alcohol, up to a maximum of £10 discount per person."
Booking is essential to dine in the evenings. To book a table, customers are asked to email cafe@rumwellfarmshop.com and include a contact number. Places are limited so people are advised to book early to avoid disappointment. The café will be unable to accept walk ins.
Anne added: "We have measures in place for our customers and staff, so we can safely operate, and we will be following strict Government guidelines on social distancing.
"Diners do not need a voucher to use this scheme and there is no minimum spend. The discount will be automatically available. Group sizes are limited."
Rumwell Farm Shop is an independent, family-run, award-winning business owned by the Mitchell family. It was originally a potato store, when David and Anne Mitchell began selling their potatoes and free-range eggs at the gate.
Due to customer demand, the range of products soon increased, and the farm shop grew into the place it is today. David and Anne's sons, James and Jack, are now also involved in the business, as well as daughters-in-law Sophie and Donna.
Rumwell Farm Shop has a traditional butchery counter selling free range pork and Aberdeen Angus beef reared just four miles away on the family farm. There is also a delicatessen, bakery, jam kitchen, food hall, wine cellar and gift room.
Home grown potatoes are also still available, when in season, as well as everything from fruit, vegetables and groceries to plants, flowers, gifts and cards.
The food prepared in the Rumwell Café kitchen is sourced from the farm shop, the Mitchell family farm and regional suppliers. Families are welcome to the café and there is a menu especially for children.
For more information, please call Rumwell Farm Shop, which is located in Rumwell between Taunton and Wellington, on 01823 461599, visit www.rumwellfarmshop.com, follow the company on Twitter at www.twitter.com/rumwellfarmshop or log on to www.facebook.com/Rumwellfarmshop.