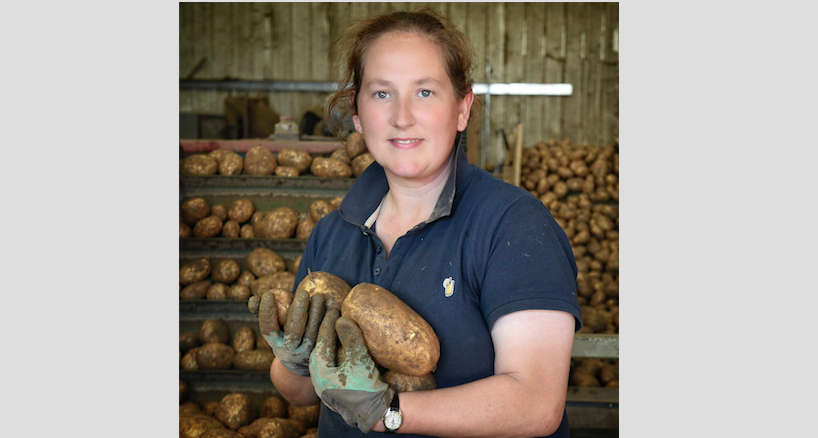 A SOMERSET farm shop with an award-winning café is inviting people to help support and celebrate British Food Fortnight (BFF) this and next month (September and October 2020).
Rumwell Farm Shop is marking BBF from now (September 19) until October 4 by giving visitors details of its homegrown/reared produce while also promoting the hundreds of other Westcountry products it stocks.
Anne Mitchell, Joint Owner of the farm shop on the A38 between Taunton and Wellington, says: "We're a true farm shop backed up by a large farm close by. A great deal of the produce we stock or use in our homemade products, or in our café, comes from our own farm, just four miles from our shop. We're also very passionate about supporting other farmers, growers, makers and suppliers near us within Somerset and the South West.
"It is incredibly important to support and champion British food and drinks producers at the moment and events like BFF are perfect for showcasing the wonderful local, seasonal, fresh and homemade produce we stock. Anyone who eats or shops with us can ask about the provenance of the dishes we're serving and the produce/products we sell. We'll showcase the very best our farm and the area has to offer during the event."
Rumwell Farm Shop is an independent, family-run, award-winning business owned by the Mitchell family. Originally a potato store, David and Anne Mitchell began selling their potatoes and free-range eggs at the gate more than 23 years ago.
Due to customer demand, the product range soon increased, and the business grew. David and Anne's sons, James and Jack, are now also involved, as well as their daughters-in-law, Sophie and Donna.
"We're an integral part of the local community and economy and employ more than 70 people in our shop and café. Our family-farm at Hillcommon and Bradford on Tone covers 600 acres and is run by a team of 14. We have a herd of Aberdeen Angus beef cattle and free-range pigs providing meat for our butchery. We have hundreds of free-range hens supplying us with our tasty eggs too. We focus on providing food that really does come from farm to fork, covering just a few short miles before our customers can buy and eat it.
"Our Aberdeen Angus, which is a traditional British breed dating back to the 1800s, spend the summer months grazing on lush green grass on the banks of the River Tone. In the winter, they live in large, airy barns, kept warm and comfortable in our own straw bedding.
"Our sows have time to happily root around in the fields and sleep in arcs on our own straw. The piglets are farrowed in the fields and, after weaning, are reared in small groups.
"All the cattle, pigs and hens are fed on a mixture of the corn grown on our farm. It is milled and mixed on site, representing a full farm cycle."
Rumwell Farm Shop has a traditional butchery counter selling its home-reared pork and beef. There is also a delicatessen, bakery, jam kitchen, food hall, wine cellar and gift room.
Its own, home-grown potatoes are available, when in season, as well as everything from fruit, vegetables and groceries to plants, Somerset-grown cut flowers, gifts and cards.
"Our farm is busy all year round. At the moment, the team is harvesting, grading – where we pick out the mud and stones off the grading belt by hand, storing and bagging our potatoes. We produce 5,000 tonnes each year and grow the varieties Wilja, Maris Piper, Estima and Marfona.
"Our chickens produce all the eggs we sell in the shop and use in the café kitchen, as well as in any products our deli, bakery and cake teams make for the shop. Every week we get through thousands of eggs. Our happy hens roam under our apple trees with access to food, water and their houses. They also have a covered area where they can scratch around in the soil hot or wet weather.
"We hand pick our Bramley apples and these are sold in the shop, as well as being used for delicious apple sauce to go with our roast pork or for crumbles in our café. They are currently featuring in our bakery in our doughnut of the month, which is blackberry and apple, using a traditional 1930s recipe. They also are the basis for our chutneys made in our jam kitchen."
BFF is a celebration of the diverse and delicious range of food available in Britain, as well as the health benefits of eating quality, fresh, seasonal and regionally distinct produce.
British Food Fortnight takes place from September 19 until October 4 and is the biggest annual, national celebration of British food and drink.
It was established in the wake of the Foot and Mouth crisis, in response to the fact that, though there are numerous food initiatives, projects and events taking place across Britain, there was no overall flagship event to bring them to the public's attention.
For more information, please call Rumwell Farm Shop, which is in Rumwell between Taunton and Wellington, on 01823 461599 or visit www.rumwellfarmshop.com.