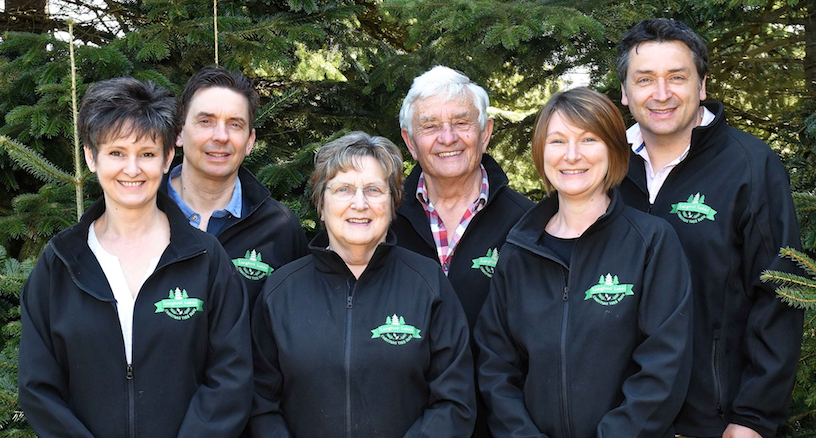 A SOMERSET Christmas tree farm has recently raised £3,126 for a children's hospice in the south west (March 2021).
The money was donated by customers at Langford Lakes Christmas Tree Farm during November and December last year for Children's Hospice South West (CHSW).
Nick Hendy from Langford Lakes Christmas Tree Farm, which is based at Middle Hill Farm in Langford Budville, said: "We're over the moon that, with the help of our customers, we managed to collect £3,126 for CHSW at the end of last year. This is a fantastic amount of money especially in the current circumstances.
"The £3,126 was raised by providing visitors to our Christmas tree farm and shop with Christmas cards and calendars, and we also had on site the wonderful team from the Irie7 mobile coffee shop from Taunton who sold delicious paninis and hot drinks to help with the fundraising. They were a wonderful addition to our team for the festivities and really helped bring a jolly atmosphere to the proceedings. We'd like to thank them very much for being involved. We also had buckets and collection tins on site.
"Without our customers' ongoing support, this would not have been possible. A huge 'thank you' to each and every one of you. We're elated to have collected so much money in 2020."
CHSW is currently the only provider of specialist hospice care for children in the region. It offers much needed support for youngsters with a life-limiting or life-threatening condition and their families at its three hospices: Charlton Farm in North Somerset, Little Bridge House in North Devon and Little Harbour in Cornwall.
Laura Robertson, Community Fundraiser at CHSW, said: "We are so grateful to Langford Lakes for their continued support of Children's Hospice South West. The past year has been an extremely challenging time for the children and families we provide care for. But our three hospices remain open for emergency and end-of-life care, and the charity has developed a 'hospice, home and virtual' model to be able to continue caring for families, wherever they are, and whenever they need it most. We can only continue to provide this vital service with amazing support from our wonderful local community and we would like to say a big 'thank you' to everyone who donated at Langford Lakes last Christmas.
Langford Lakes Christmas Tree Farm, which is well-known for its home grown, freshly cut Christmas trees, is a family run 40-acre farm that is located close to the nature reserve Langford Heathfield, a mile outside of Langford Budville in Somerset.
The farm is owned and run by Reg and his wife Ann and their two sons and daughters-in-law, Shaun, Trudy, Nick and Clare. The family has been growing and selling Christmas trees for more than 20 years.
For further details about Langford Lakes Christmas Tree Farm, which is based at Middle Hill Farm in Langford Budville near Wellington, please call 01823 400476, visit www.langfordlakes.co.uk, follow the company on Twitter at www.twitter.com/LangfordLakes or log on to www.facebook.com/LangfordLakesChristmasTreeFarm/.