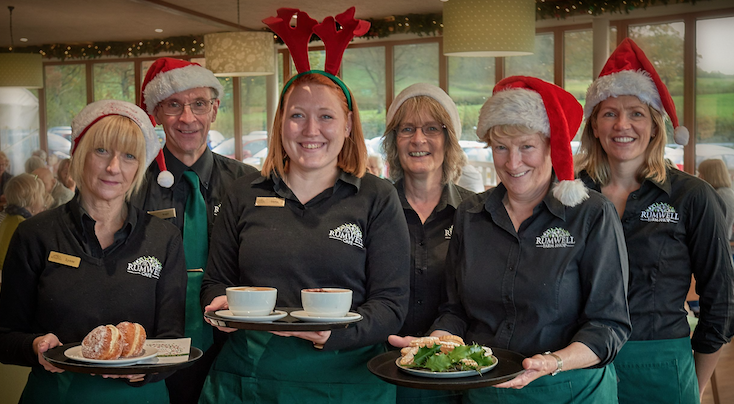 SOMERSET residents are invited to book their Christmas parties at Rumwell Farm Shop as it launches a brand-new event for anyone looking for a venue for a festive get together (December 2021).
The Christmas Party Night will take place on December 18 from 6.30pm and will offer something a little bit different for party goers seeking a festive atmosphere.
Anne Mitchell, Joint Owner of the Farm Shop, which is located on the A38 between Taunton and Wellington, says: "This is the first year we have run our Christmas Party Night and it's going to be a wonderful celebratory event with the chance to have a traditional festive meal with many of the ingredients sourced locally including pigs in blankets made from pork we've reared on our own farm just up the road and our homegrown potatoes as roasters.
"We look forward to providing the perfect venue for friends, family or colleagues to get together and enjoy themselves and we're able to provide a sustainable, low food miles menu, with items that have been grown, sourced and reared in Somerset and dishes like our homemade Christmas pudding with brandy sauce made on site.
"Last Christmas was a more subdued event so we're excited to be welcoming lots of familiar and new faces to our event to kick-start the festivities with us this year. We're hoping to become a leading venue for work dos in the area."
Rumwell Farm Shop will host its Christmas Party Night in their beautifully decorated Café, where a three-course meal will be served. Dinner options will offer guests a choice of three starters followed by a main course, with a choice of either traditional roast turkey with all the trimmings, grilled fillet of cod or wild mushroom coulibiac. There will also be a trio of desserts to choose from including homemade Christmas pudding with brandy sauce.
After dinner there will be a disco and, throughout the event, a licensed bar.
Tickets are £24.99 per person and booking via Rumwell Farm Shop's website is essential: https://www.rumwellfarmshop.com/product/rumwell-christmas-party-night-december-18-2021/.
Rumwell Farm Shop is an independent, family-run, award-winning business owned by the Mitchell family. It was originally a potato store, when David and Anne Mitchell began selling their potatoes and free-range eggs at the gate.
Due to customer demand, the product range soon increased, and the business grew. David and Anne's sons, James and Jack, are now also involved, as well as their daughters-in-law, Sophie and Donna.
Rumwell Farm Shop has a traditional Butchery counter selling its home-reared and free-range pork and Rumwell Angus beef. Also on-site there's The Rumwell Flower Shed, a Delicatessen, Bakery, Jam Kitchen, Food Hall, Wine Cellar and Gift Room.
Its own, home-grown potatoes are available, when in season, as well as everything from fruit, vegetables and groceries to plants, mostly British-grown cut flowers, gifts and cards.
The Rumwell Café is a large and spacious building. The food prepared in the café kitchen is sourced from the Farm Shop, the Mitchell family farm, which is just four miles away, and other regional suppliers.
Families are welcome to the café and there is a menu especially for children. It also serves afternoon teas, roast carvery Sunday lunches and is licensed to sell alcoholic beverages.
To book in for Rumwell's Christmas Party Night on December 18, please visit https://www.rumwellfarmshop.com/product/rumwell-christmas-party-night-december-18-2021/. Tickets are £24.99 per person.
For more information, please call Rumwell Farm Shop, which is located in Rumwell between Taunton and Wellington, on 01823 461599 or visit www.rumwellfarmshop.com.