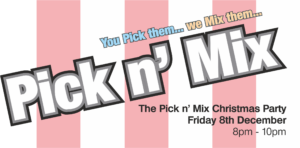 A quick message from Chris Wareing, presenter of Friday Anthems on 97.3 Apple FM, each and every Friday Night from 8pm!
"Hi All!
It's Chris from Friday Anthems and I need your help!
We've had a great response to the Pick N Mix segment on a Friday night, in case you don't know, each Friday night at around 9.45 I hand the show over to you for you guys to pick the music.
On Friday 8th December I'm going to scale things up, because its Christmas (nearly) I'm handing the full 2 HOUR show over to your requests.
I have a feeling it may be busy, so I'd love you to get your request for your favourite dance song in now so I can have it locked into the playlist for the big night.
All I need you to do is email me on with your name, where you're from and your favourite dance tune.
It can be bang up to date, an 80's electro classic, a 90's rave anthem or something you heard on your summer holidays… if it got you up dancing now or then, it could feature on The Pick N Mix Christmas Party on Friday 8th December.
If I could have as many in as possible by Monday 27th November, just so I've got time to download them, go to a record shop or ask Steve Westwood to borrow a few tunes…!
The show will be broadcast from 8pm on Friday 8th December, straight after Amanda with her 80's and Friday Night Mash Ups, so make sure you listen out for your favourite.
Loads planned for December on the show, as we usually do, so make sure you keep listening and thank you for making it 97.3 Apple FM"!